CaPNotifier: Get System Tray Notifications For Caps Lock On/Off
Hitting Caps lock lets you type in upper case letters. When Caps lock is enabled, you can continue to keep typing in upper case until you disable it by hitting the Caps lock key again. However, sometimes it happens that you turn on the Caps lock by mistake, and since there is mostly no indication of it being turned on, whatever you are writing gives the impression of you screaming at the other person. If you often face the issue of accidentally turning on Caps Lock while typing, CaPNotifier is an application that notifies you every time you switch on Caps Lock, Num Lock, or Scroll Lock etc. A notification pops up in your notification bar and stays there for a few seconds before disappearing, letting you see if your Caps Lock has actually been turned on. The application also allows you to receive notifications for Control, Shift and Alt key presses. You can turn notifications on and off for individual keys in CaPNotifier.
When you install the application, the Settings window pops up on the first run. The Settings menu has the options to turn alerts on and off for NUM Lock, CAPs Lock and Scroll Lock. Other options let you turn on alerts on press of Shift key, Control key and the Alt key. Click Save Settings to save all the notification settings and click Calibrate Program to calibrate the application with the current state of keys. Clicking Show current state of Caps Lock and Num Lock lets you view if they are on or off at the moment.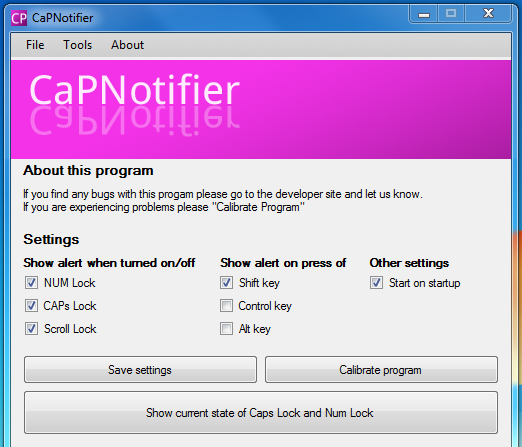 Once all settings are saved, the application runs in the system tray and displays notifications for the mapped lock keys in the bottom-right corner of your screen. Notification is displayed each time you turn a lock on or off. For instance, if you hit the Caps lock key, a notification bubble will appear in the lower right corner of your screen informing you about the change.

You can set the application to generate a notification in the taskbar when pressing and releasing the Shift key, Alt key and Control Key. This enables you to always know whenever any key is pressed.

The Settings dialog box can be accessed by right-clicking the applications taskbar icon and selecting Settings.

CaPNotifier works on  both 32-bit and 64-bit versions of Windows XP, Windows Vista and Windows 7.