CCleaner Runner Auto Clears Web Browser When Closed
CCleaner is no doubt the best cleaning app out there but one functionality that is missing is to auto clean the browser's cache, temporary files, history, etc when closed. Many users use CCleaner to clean up their Firefox, Chrome, Opera, Safari, and IE browsers, so why not automate the whole process?
AutoCleaner, also called CCleaner Runner is the first app of it's kind that monitors web browsers (users can select which browsers to watch), which when closed will automatically launch CCleaner (minimized in system tray) and clean up the browser's cache, web history, typed URLs, temp files, and more depending on user's CCleaner setting.
It is a portable tool which sits in the system tray and silently monitors the user-defined web browsers. By default, it watches all browsers supported by CCleaner. To remove a browser from the list, double-click the system tray icon to bring up Preferences, select a browser from the list and hit Delete.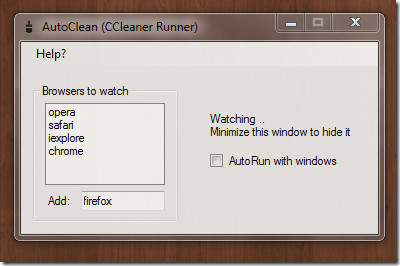 To add a browser back to the list, enter it's service name, i.e, firefox, not firefox.exe, and hit Enter.
It works on all versions of Windows where CCleaner can run, worked seamlessly on our Windows 7 32-bit system.
Download AutoClean (CCleaner Runner)