Change File/Folder Attributes, Date, And Time With Attribute Changer
Attribute Changer is a shell extension for Windows that can change the attributes, date, time, and NTFS compression of any file or folder. It is powerful tool that can also change the Image Exif data, such as, time and date. What makes it different from other tools is the ease-of-use. Once you have installed it, just right-click any file or folder and select Change Attributes from the list.
The sole reason I use this tool is because it allows you to change the advanced settings of any file more easily. For e.g, you right-click any file in Windows, then go to Properties,  then select the General tab, and finally click Advanced in order to change the attributes. While with this tool, you only need to right-click the file and select Change Attributes. That's it.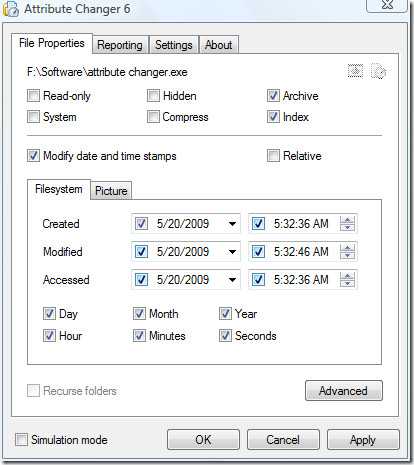 It is obviously not a new tool, the first version was launched back in 1999 and this tool marks it's 10 anniversary this year. What's new in the latest version is that you can easily change picture date and time stamp information, a feature long requested by the community. It works on Windows 98/ME/2000/XP/Vista/7 and 64-bit version is not supported. Enjoy!