Change The Login Screen Background In Windows 10
Windows 10 has a lock screen and a login screen. The login screen is the one you see when you hit Escape on the lock screen and where you enter your password to get to your desktop. Windows 10 has made it super easy to change the lock screen background but the same cannot be said for the Login screen. At present, you are saddled with the Hero background on the login screen and there doesn't seem to be any straight forward way to change it.
There isn't even a registry key that you can edit to get a different background. There is, however, an app; 'Windows 10 Login Screen Background Changer' that does let you change it. It's free and warns you to use it at your own risk (and we agree). The Windows 10 Anniversary update had added a setting that lets you change the login screen background natively. Read for more details.
Download the app from the link below and run it as an Administrator. You can set an image as a background or a solid color. If you plan on using an image, make sure you've already saved it and do not save it to your desktop as that gives an error when used with the app. You can save it to your Pictures folder.
If you want to set an image, click the 'Browse for an image' button and then select it. If you want to set a solid color, click 'Choose a color' and pick the color. The app lets you preview what your login screen will look like. Once you're satisfied, click the 'Change background' button and wait for the app to confirm the change.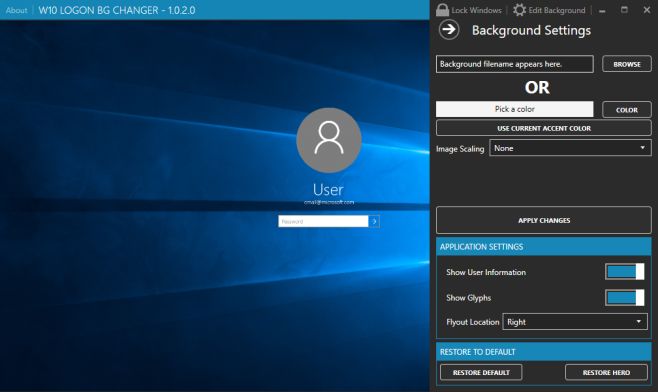 It looks flawless;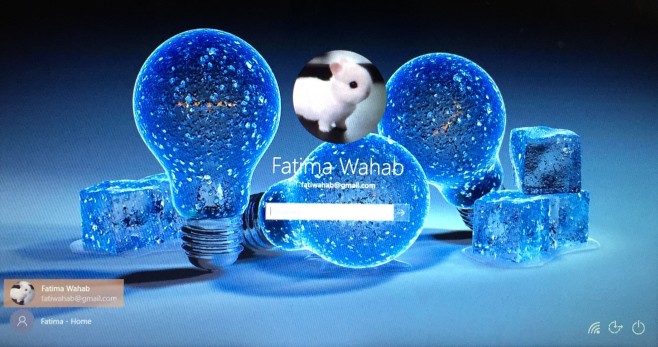 We didn't observe any problems after making this change. The lock screen was a bit slow to roll away when we hit the escape key but it's likely an isolated case or a result of other tinkering done to the OS. The developer posted this small app on My Digital Life forums where you will need to sign in to view the post. We've provided the download link below to make it easier for you to download.
Update 1: The developer has released a new version of this app 12 hours ago that addresses the problems some users are facing. For anyone interested, the Reddit thread for the app is linked to inside this post.
Update 2: This post has been updated on Aug 11, 2015 to address the login issues caused by the app.
Update 3: The latest version of this app, as on August 25, 2015 was tested and all errors appear to have been resolved. The app is safe to use.
Download Windows 10 Login Screen Background Changer
This Broke Windows – Help!
A recent update has resulted in Windows 10 no longer logging in for about 50% users. We checked out the latest one and what worked for us was resetting the PC. To do so, tap the F8 key until you see the Troubleshoot option. Go to Advanced Options and then reset your PC. After the PC was reset (all files and apps were duly retained), we ran the app again and it didn't produce the same problem.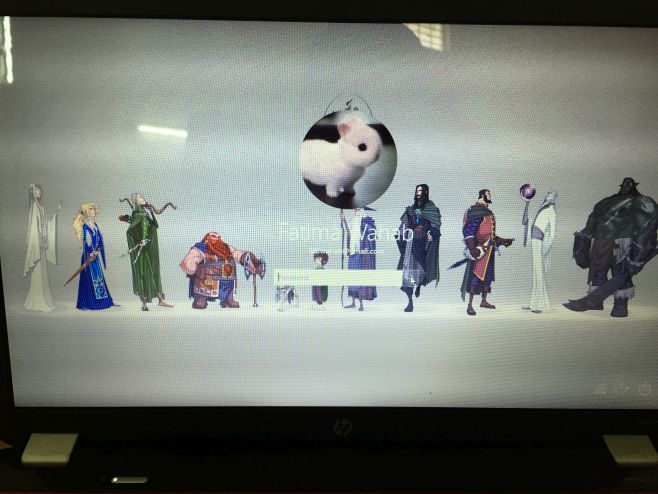 The Developer's Solution
The developer has posted this solution for those experiencing the problem. It's probably a good idea not to try the app again after you get your system back until this issue has been resolved.
While booting Windows, force restart your computer three times. To force restart, hold down your power button until the computer shuts down. Then turn on your computer again.
Click Advanced Options > Troubleshoot > Advanced Options > Command Prompt
Type in echo list volume | diskpart and find your Windows drive letter.

Type in [win]:
[win] would be your Windows drive letter (lowercase).

Type in cd SystemResources\Windows.UI.Logon\
Type in del Windows.UI.Logon.pri
Type in copy Windows.UI.Logon.pri.bak Windows.UI.Logon.pri
Reboot into Windows and login.
Native Windows 10 Settings
The Windows 10 Anniversary Update added a setting that allows users to use the same image for the login screen background that they use for the lock screen. You must be running Windows 10 version 1607 to get it.
To change the current login screen background image, open the Settings app. Go to the Personalization group of settings and click 'Lock Screen'. Select an image for the lock screen and then scroll down to the very bottom.
Here you will see an option 'Show lock screen background picture on the sign-in screen'. Turn it on and you're all done.