Change Windows Default User Profile Directory
Having Windows user profiles in their default location poses the risk of losing all profile data in the event that the operating system gets corrupted. Unfortunately, Windows 7 does not come with any built-in option to change the default user profile location, and hence, the risk remains. Profile Relocator offers a solution by giving users the flexibility to change default profile directory.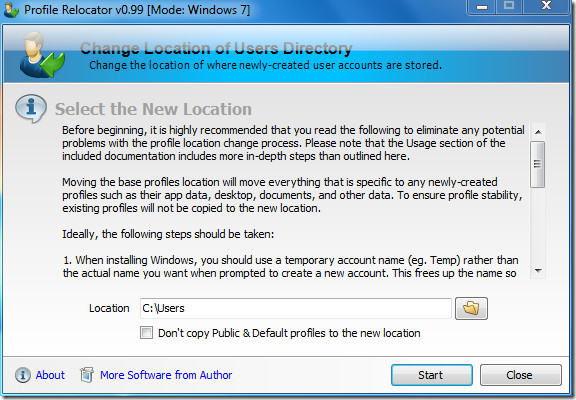 The interface is minimalistic and self-explanatory, with detailed instructions built it. Every time the application is run, a disclaimer screen greets the user to which you must agree. Clicking Next will take you to the main screen. Select the new default user profiles folder and click Start. You can also choose not to have the Public and Default profiles relocated.
Once the process is complete, log off Windows and log back in. Create a new user account and check to ensure that it has been created in the newly specified location. Going forth all new user accounts will be stored in this location. You may choose to delete the old account afterwards.
The software is intended to be used with clean, fresh Windows installations, since it cannot move the current user profile to maintain system stability. You may, however, use it with an existing installation as well. It is recommended to go through the instructions provided in the software interface before proceeding.
Profile Relocator is a portable tool that works on Windows 7, Vista and XP.