Remove Unwanted Toolbars From Your System
Browser toolbars can become a real nuisance. Not only do they add clutter but also hijack your search engine, browser homepage, etc, and some are persistent enough not to let it get changed again. Then there are those who do not bring any useful functionality at all, except reducing the browser's own speed as well as consuming internet bandwidth. When these toolbars are removed, they often leave behind traces, not getting entirely uninstalled from your system.
Multi-Toolbar Remover is a portable tool that gets rid of multiple toolbars completely and instantly. It support removal of many popular toolbars, such as, Google Toolbar and Quick Search Box, Yahoo! Toolbar, AOL Toolbars, Comcast Toolbar, and Ask Toolbar.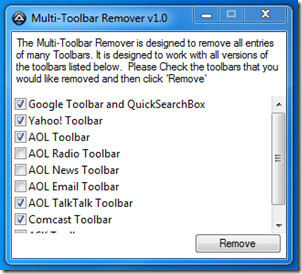 It is as easy as selecting the toolbars present in your system and clicking remove. The tool will perform the removal and notify you once it's done.
This software is Windows only, and works fine on Windows 7 x86 system.
Download Multi-Toolbar Remover