How to clip the mouse to the screen edge on Windows 10
On a multi-screen setup, the mouse moves almost seamlessly between screens. It sticks a bit between the edges, but in most cases, you will find the transition is seamless. It's supposed to be that way so that you can move windows between monitors and so that it's easy to select something on the other screen.
While this is a useful feature in most cases, it's not always preferred behavior; full-screen games, presentations, media. If the cursor moves to the other screen, it might interfere with your game or your presentation, i.e., you have to look for it before you can use it. BrokenMouse is a free app that can clip the mouse to the screen edge.
Clip mouse to screen edge
The cursor isn't supposed to clip the edge of the screen in most cases which is why BrokenMouse is smart about how it clips it. The app has a hotkey that can enable/disable clipping whenever you want, and it can actively monitor which app is both active and in full-screen mode before it automatically clips the mouse.
Download, install and run BrokenMouse. It will start working automatically. When an app is in full-screen mode, it will clip the cursor to the screen that the app is open on. If it's a game, your cursor won't get lost outside it.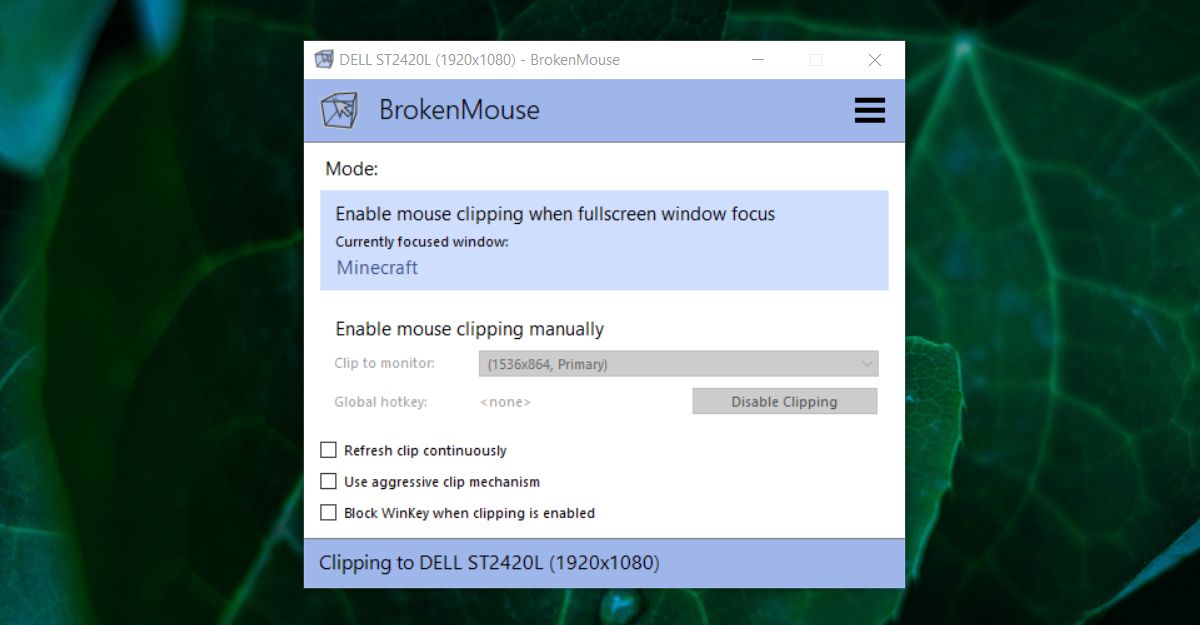 You have to set the hotkey up. Click the hamburger icon and select Settings from the menu. Click inside the Manual enable hotkey field. Set up the hotkey you want to use by pressing it when the field is active/green.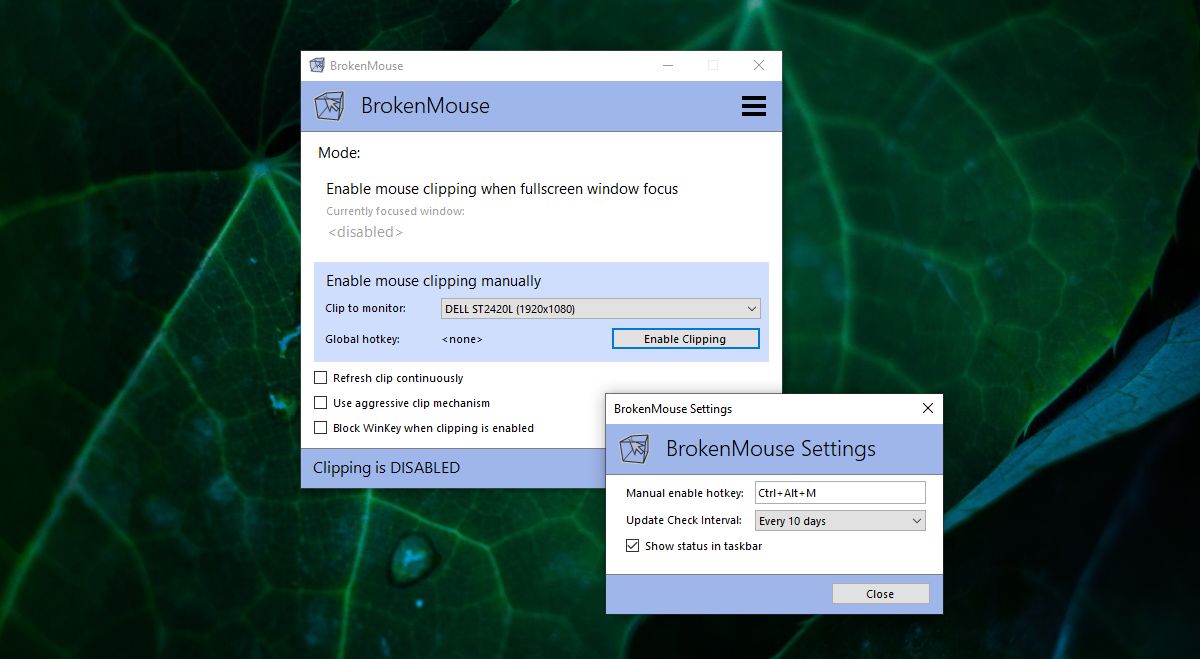 BrokenMouse can also block the Windows key, and when it does so, it also blocks all shortcuts that you can run with it, e.g., Win+PrntScrn, which takes a screenshot and saves it to the Screenshots folder in the Pictures library.
If you find the Windows key interferes with a game that you play, or you'd rather just disable it when you're giving a presentation, you can enable the 'Block WinKey when clipping is enabled' option. Whenever BrokenMouse is clipping the mouse to the edge of the screen, it will also block the Windows key at the same time.
BrokenMouse has been developed for old games that don't play well with multiple screens, but it has uses outside that one specific scenario. You will find lots of remastered games, and even newer ones will not capture the mouse cursor and limit it to the current screen, which means you might lose it while you're playing. The app is a great solution.