ComicRack – Best Comic Book Reader
A few days back when I mentioned WPF Comics Book Reader and gave it rave review, some commenters pointed me towards ComicRack. And I believe they are right, ComicRack is indeed the best ebook reader out there.
Unlike other e-readers, it supports more formats – cbz, zip, cbr, rar, cbt, tar, cb7, 7z, and pdf. Which means I can finally read the Watchmen issue #1 which is in PDF format.
The best thing about this ComicRack is that it supports multi-tab, which means you open multiple comics, books, etc and switch between them with a click of a button. Another important feature is navigation, navigating between pages is much improved and easier than before.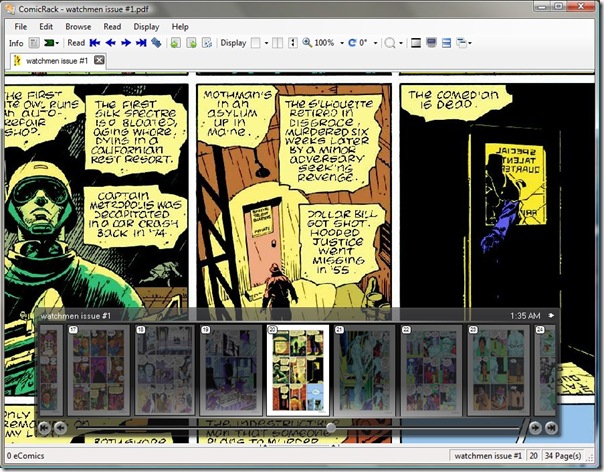 Some notably important features include:
Database management (extended info storage, thumbnails, quick search, smart searches, custom lists, etc.)
Full screen reading mode with two page display, various zoom modes, auto rotation (for tablet PCs), etc.
Smart parsing of file names for good initial values (series, number, volume, year etc.)
Comic Library Network Sharing with optional password protection
Custom display grouping, sorting, stacking and filtering
Multiple views formats
User definable Keyboard shortcuts
Thumbnail generation with customization
In-viewer extended info editing
Batch conversion to cbz/pdf/cbt of all supported import formats
Did you know that you can resize thumbnails, reorder the reading list, change reading order of pages, and much more? It works on Windows 2000, Windows XP, Windows Vista, Windows 7 and Windows 8. It requires .Net Framework 2.0 to run, both 32-bit and 64-bit OS are supported. Enjoy!