What Is Msseces.exe & MsMpEng.exe Process? And Why They Are Running?
If you are wondering what Msseces.exe or MsMpEng.exe process are running in your system, then you have come to the right place. We have provided brief details about them below.
Msseces.exe
Msseces.exe is the front-end GUI of MSE(Microsoft Security Essentials). If you have installed the latest antivirus from Microsoft, then this process keeps the program's graphical interface running.
Even if you end this process, MSE(Microsoft Security Essentials) will keep running in Windows background and will not actually shutdown. The downside would be that it will not be able to alert you of any new threat. If you are running MSE, then you should not worry about this process since it is not some sort of threat to your system.
MsMpEng.exe
MsMpEng.exe is the back-end of MSE(Microsoft Security Essentials). It is important to remember that this process is actually used by both Windows Defender and MSE. When you install MSE, then Windows Defender is automatically turned off and MSE uses this process.
If you uninstall MSE, then Windows Defender will be enabled and will start using this process. So in a way both Windows Defender and MSE use this single process.

This is the main process that runs the program and takes quite some system memory. If you end this process then MSE will be disabled and an alert will be shown asking to start the process again.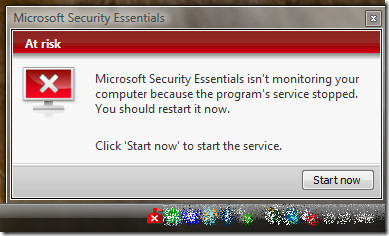 If you ignore this message it will start the process automatically, since it makes no sense to run front-end GUI of MSE without the actual backend program.
I hope the above explanation has made it clear what both processes do in Windows. If you still have any questions or doubt, feel free to leave a comment. Enjoy!
Editor's Notes: At AddictiveTips we will be regularly covering various important processes in Windows. We believe that educating the readers about different processes will give them more insight as to how Windows and Software work.