Check system compatibility for Windows 11 with the Health Check app
Windows 11 has officially been announced. It will be some time before a stable release is available but for those that are interested, and have a spare laptop lying around, you can check out the pre-release version. It is unclear if the upgrade from Windows 10 to Windows 11 will be free or not.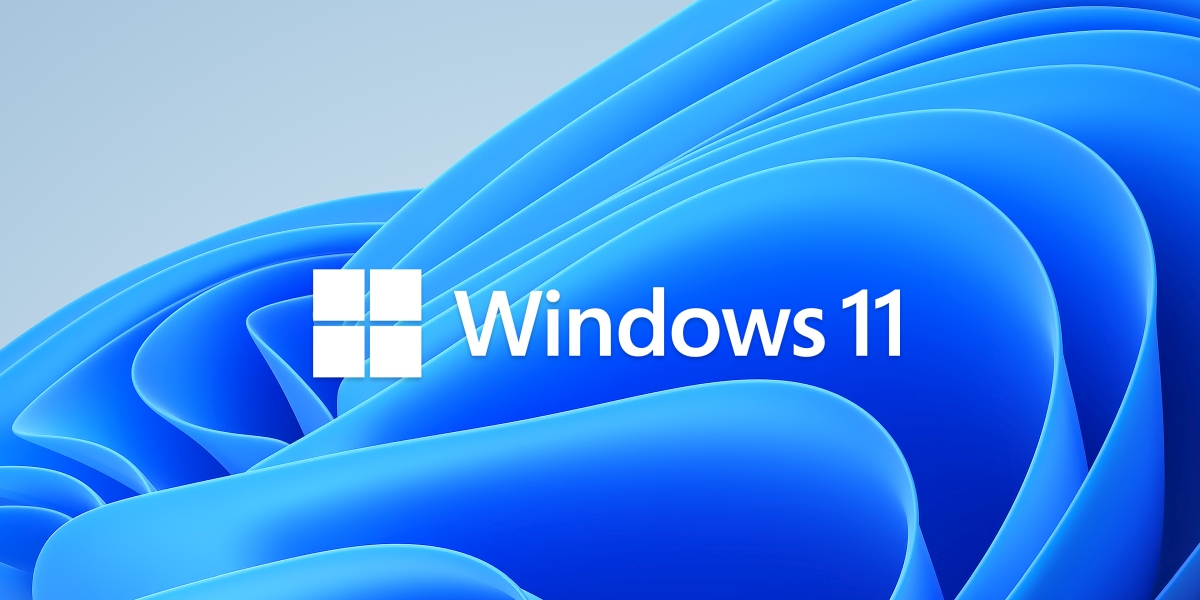 System compatibility Windows 11
Microsoft has released a list of minimum hardware requirements to run Windows 11. They're not too demanding and that means most systems that are able to run Windows 10 will be able to run Windows 11.
These requirements are;
Processor: 1 gigahertz (GHz) or faster with 2 or more cores
Memory: 4 GB RAM
System firmware: UEFI, Secure Boot capable
TPM Trusted Platform Module (TPM) version 2.0 (how to check TPM)
Graphics card DirectX 12 compatible graphics / WDDM 2.x
Display: Larger than 9 inches with minimum 720p resolution
For specific features, you can check out the detailed list and see what hardware is needed for a particular feature. Based on the list above, the 4 GB RAM requirement might be what excludes most systems from upgrading to Windows 11.
Windows 11 Health check app
Back when Windows 10 was released, Microsoft allowed users to check if their system was compatible with the new OS or not via the upgrade tool. It has released, and then removed, the Health Check App. It performs a compatibility check on your system to see if it will run Windows 11.
Microsoft has removed it but you can still get it from online repositories like Softpedia.
Download the Health Check app.
Run the MSI file and install it.
Open the app and click Check Now.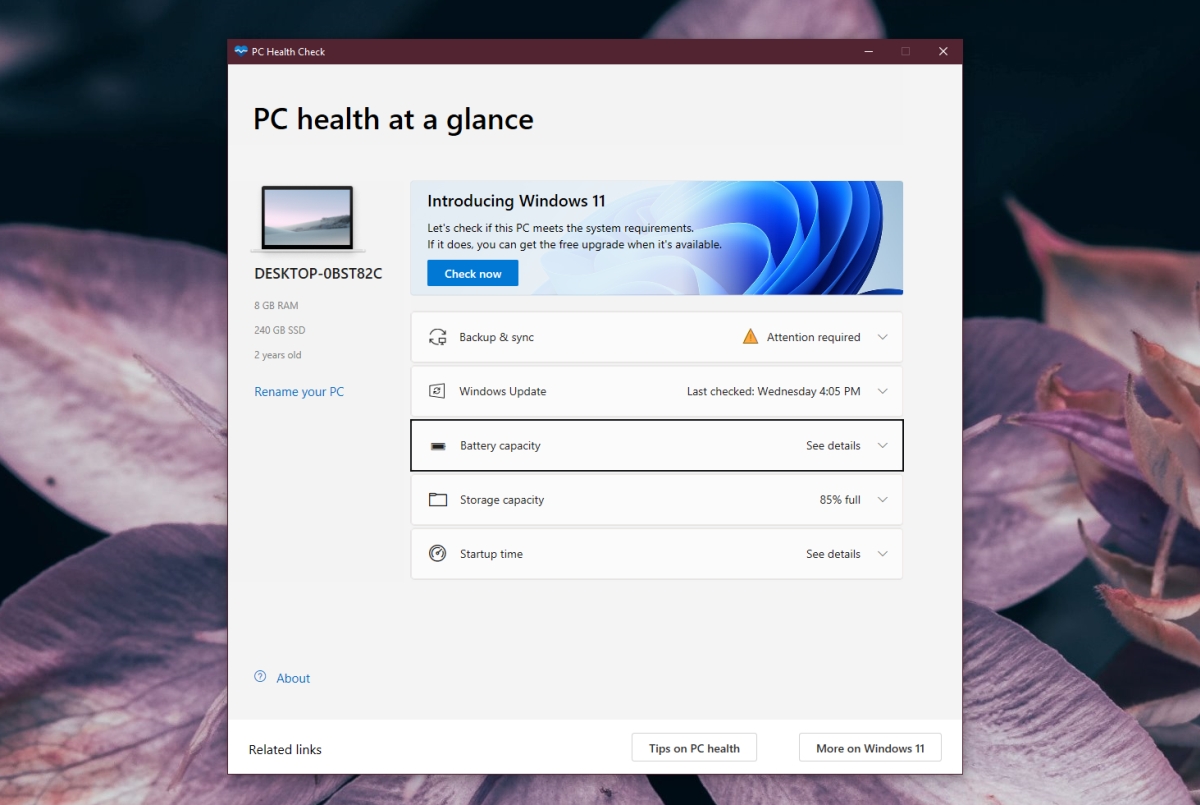 Inaccurate results
Microsoft took the Health Check app down because many users complained that it was giving erroneous results. My own tests showed that my system is not compatible with Windows 11 because the processor doesn't meet the requirements, which is incorrect. My processor is more than capable of running Windows 11 based on the system requirements released by Microsoft. The app clearly has problems that Microsoft is aware of.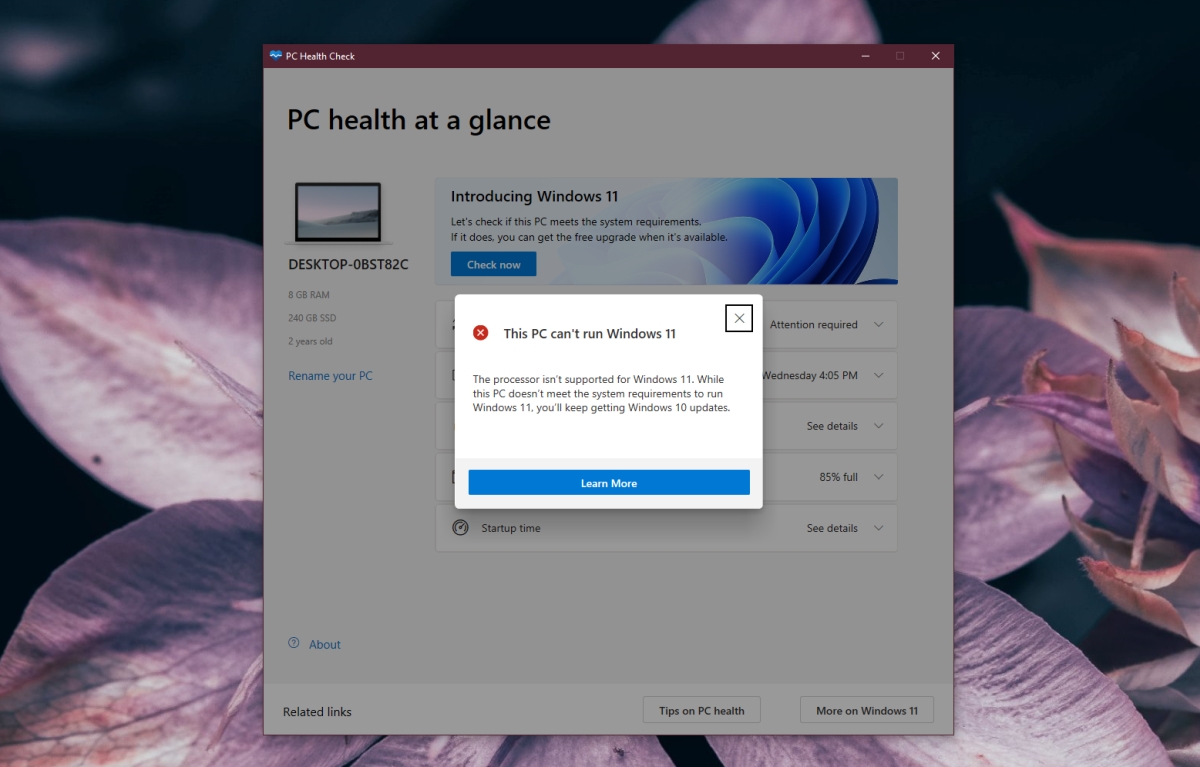 If you want to check if your system is compatible with Windows 11, we recommend looking at the system requirements until Microsoft can sort out what is wrong with the Health Check app.
Conclusion
Windows 11 isn't coming out any time soon but when it does, there will definitely be plenty of new systems released with hardware that can run it. You have time to decide if you'd like to upgrade your current system to Windows 11 or if you'd like to buy a new one altogether. As time passes, we will learn more about Windows 11 and the features it will come with, and the hardware needed to use those features so keep an eye on the updates and make an informed decision.