Convert Physical Machine & VMware's VMDK Into VHD Format
Ever wanted to convert VMware's VMDK virtual disk image to Microsoft's VHD image, but didn't find the right tool to carry out the required operation? 2Tware Convert VHD is a tool that may help you convert not only VMDK disk image into VHD format for running it as virtual machine via Virtual PC, but also allows you to convert your Physical machine into a single virtual disk. Using the physical machine conversion option, you can easily create full backup of your hard disk partitions without having to go through tedious process of configuring full backup settings. Unlike other virtual disk conversion tools, which attempt to copy data written on the source disk, this utility performs sector-by-sector copy operations, enabling you to select your entire hard drive and clone it in VHD format. Details to follow after the jump.
Once physical computer is converted into virtual hard disk, you can use it to run installed applications on virtual machine and test any new system configuration without making any changes to your physical machine. Moreover, if you want to convert external hard disk into VHD format, just specify source path followed by location and name of VHD disk to start the conversion process. The main interface has 2 sections, namely Convert VMDK to VHD and Convert Physical Physical Disk to VHD. In order to convert VMWare's VMDK file image into Microsoft's VHD, enter the complete path of the source image file. Once done, enter the output location and specify the output VHD image name. Now, hit Convert to begin the conversion process.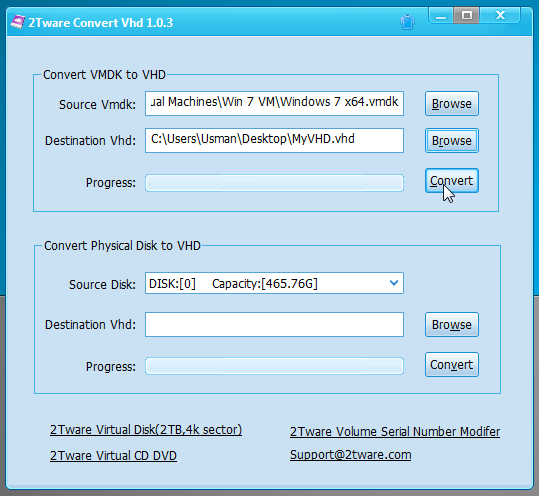 Under Convert Physical Disk to VHD section, you need to select either primary hard disk or any attached USB/external hard drive, enter the destination VHD image file and click Convert to convert your physical machine into virtual disk image. If you're planning to convert hard disk into VHD, we recommend creating VHD on an empty external hard disk, which must be atleast as large as the source drive.
Want to convert your Physical computer into Virtual machine and use it via Virtualization software, check out our guide here.