Create And Add Autorun Files To CD/DVD Automatically In Windows
Back in September of last year we wrote a tip on adding Autorun to USB Drives and also also customizing the icon. But if you want to make and then add Autorun programs to the CD/DVD then there is a more simpler method. Instead of having to create a custom autorun.ini file, now all you have to do is to select the files that you want to autorun and the app will handle the rest itself.
1st AutoRun Express is a free utility for Windows that allows you to create an autorun for a CD/DVD and also has an option to burn the content. Just start the program, select 'Create a new autorun CD/DVD project', and click Next.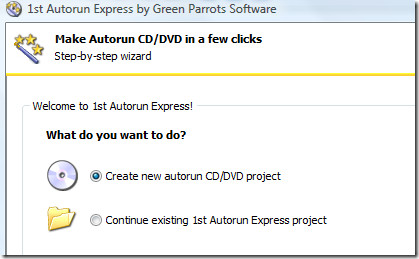 Give it a project name and click Next. Or you can also select to add autorun to an existing folder with files for your CD/DVD.
In the next step, select 'Open one or more documents automatically'. You can also select to show a menu and let user select what document to open, but only use this option if you are burning the CD/DVD for yourself. This is because it will not show the menu in other computers except the computer where you burned the CD/DVD(only paid version of this app will show the menu in all computers).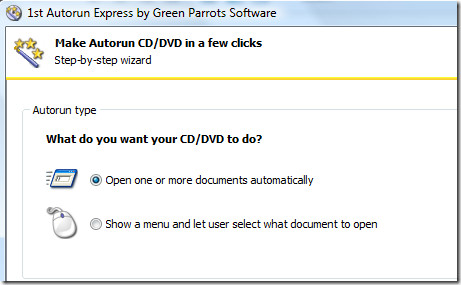 Now in the next step select the documents, URL, and folders that you want to Autorun. Please note that by documents the developer means any file. Since opening up 20 files at once wouldn't make sense, there is an option that you can check which will wait for each document to close before proceeding to open the next document.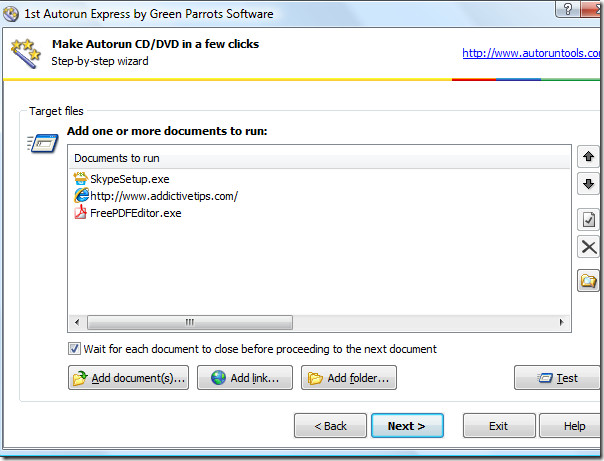 You can also edit the action of each and every file/url that you have added the to list. Select the file, click Edit, go to Options in the new window, and then select the command line parameter. The options window contain two additional useful options – Initial window state and document open command. The former allows you to select the state such as Maximized, Minimized, or Hidden and the later allows you to select the open command such as open, play, view, print, find, and many others as shown in the screenshot below.
To check whether all the files/url open the way you want, click Test. When all files have been added, click Next. To give CD/DVD a name and to add a custom icon, click Adjust CD Options button.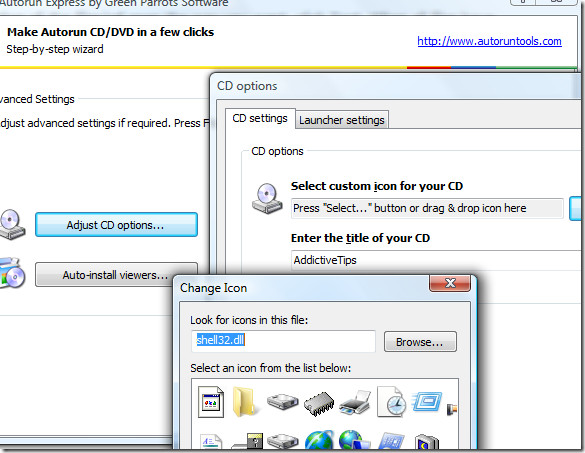 Once all is done, click Finish and you will be shown the Success window. Here you can either burn the cd/dvd directly, browse the folder where your files reside along with the new autorun.ini file, or test the autorun programs without burning.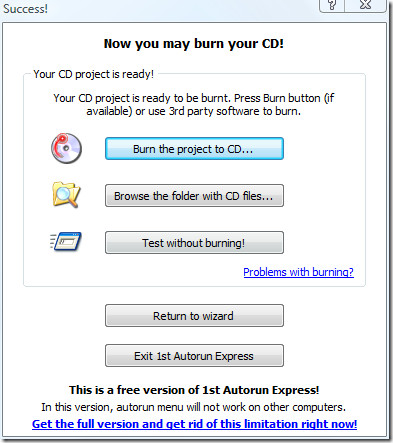 You can also use a 3rd party software to burn the data to the disk. All you have to do is to first add the content of the folder where the files and autorun.ini reside, add them along with other programs, and then burn it. That's all.
It works on all versions of Windows, both 32-bit and 64-bit OS are supported. For more, also check out a way to prevent Autorun Virus. Enjoy!