Launch Startup Programs And Processes One By One With OoLauncher
Want to speed up the startup of your Windows 7, Vista, or XP operating system? The best way is to delay the launching of certain startup programs and processes, re-arrange the order in which these programs and processes are loaded, and control which startup program or process are loaded at what time. So how would you do that?
Enter Oolauncher. It is a free portable application launching management utility for Windows. Don't be confused, it is not an application launcher like JetStart, SliderDock, and LaunchBar Commander. Instead it controls how the startup programs in Windows are launched.
Update: Most users are facing problem with this tool and calm that it removes all the startup programs. I have contacted the developer of this app and he has the following reply(solution), "The problem you pointed out is not a bug. Oolauncher is designed to launch applications from its own database. So after imported the startup programs, the removal is necessary to avoid starting application twice, one by Oolauncher and another by windows. Users can restore programs to its 'original location' by click the 'Restore' button on the Oolauncher dialog." I hope it helps. 🙂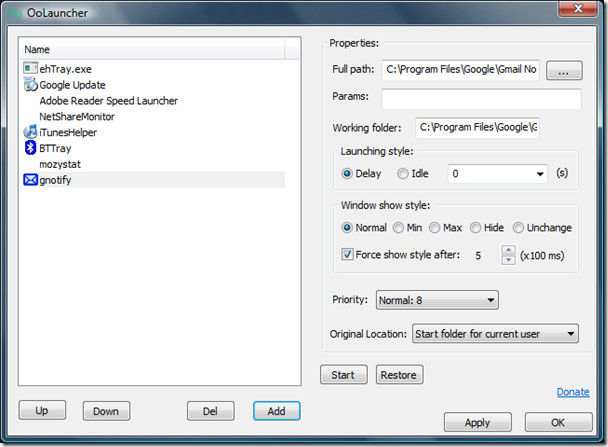 So what can users do with this utility, exactly? You can define after how many seconds a program/process will launch during startup, control how the program window should be displayed(normal, minimized, maximized, hidden, or unchanged), define the priority of each application/process, and choose the Original Location of each program/process(options shown in screenshot below).

Apart from these usual features, you can also move the order of the programs/processes and force show the window style after a defined number of seconds. In other words you can also call it a startup manager program since it allows you to add/delete any program or process both quickly and easily.
Another reason why this utility is worth it is because instead of launching all the startup programs at once, it launches them one by one thus saving the memory usage and resulting in a faster startup of Windows.
It works on Windows XP, Windows Vista, and Windows 7 only. Enjoy!