Create App Mockups Or Get A Resizable Dummy Window With FrameDummy
FrameDummy is a Windows application that lets you overlay a dummy desktop window frame over different objects such as photos, wallpapers, webpage screenshots, application UI etc. If you are wondering why anyone might want to do this, it can be useful in a lot of scenarios where you need to present something in a window frame. Its possible applications include software development where programmers often require to showcase early prototype of projects to their clients, or simply showcasing a part of a window in a presentation or blog post, while still giving it a full window look. You can also create fake window frames around your photos and upload the images on social media network such as Facebook or Twitter etc. just for fun. Not only is the application fairly easy to use, but it also presents everything in a simple fashion. Details to follow.
FrameDummy is a portable app requiring no installation on your PC. When launched, you see a bare bones dummy window frame with an empty area in the center where you can insert the images of the required project. Since this area is transparent, you can also simply place the frame over your required content and capture the screenshot. But the real fun starts in the tool's settings window, which lets you customize different parameters regarding the frame. Settings can be accessed by right-clicking at the central region or pressing the Ctrl+S hotkey.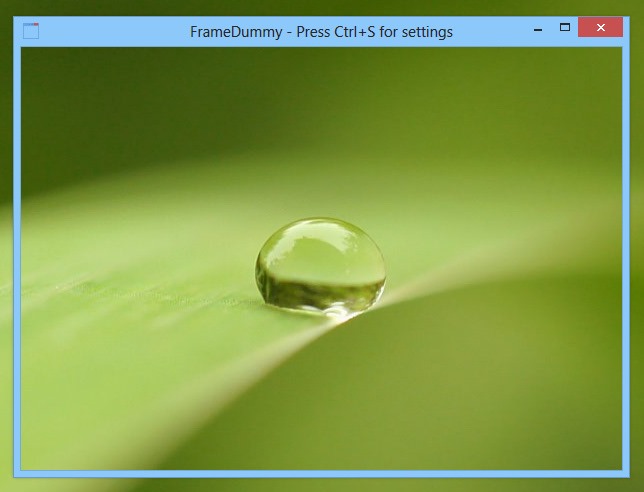 In the Settings, you can enter a custom title of the frame to match it with that of your project. Likewise, you can choose a custom app icon by specifying an icon file in JPEG, PNG, BMP or ICO format. The application even allows customizing border type. For instance, if you want the window to be resizable, simply choose the 'Sizable' option from the dropdown menu. Other available choices include none, fixed single, fixed 3D, fixed dialog, fixed tool window, and sizable tool window.
FrameDummy also allows you to control the opacity of the frame, and disable non-required window elements including control box, icon, minimize, maximize and taskbar buttons, and 'always on top' behavior. If you want to replace the empty area in the window with your own image, you can select that image file from here by browsing for it. In addition, you can choose the default image size such as stretched, zoom or centered. The Color option lets you specify a color of your choice for the areas within the dummy window around the image that you have loaded. The selected color shows up only after you unmark the 'Color is transparent' check box.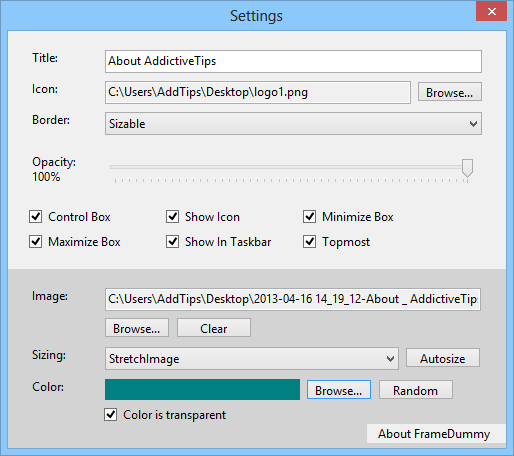 The screenshot below demonstrates our 'About Us' page overlaid by a custom frame created with FrameDummy.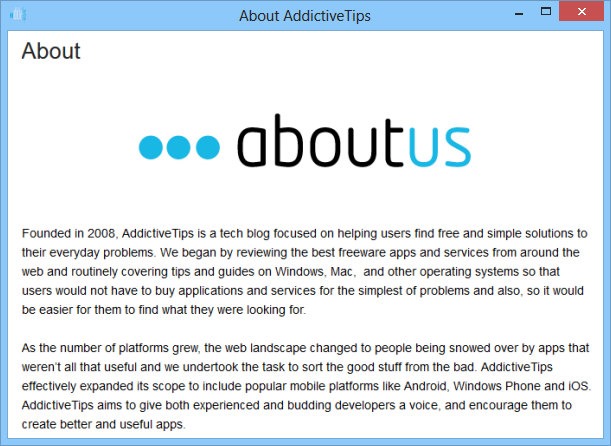 Although it has rather limited usage, FrameDummy works perfectly at what it does. It works on Windows XP, Windows Vista, Windows 7 and Windows 8.