Desktop Context Menu Customizer: Add Apps To Windows Context Menu & Create Cascade Menus
Context menu is a great way to access frequently used settings and applications without going to their default location. You can create a context menu shortcut and quickly open the required setting or program through just a couple of clicks. Desktop Context Menu Customizer is a portable application to add frequently-used application's shortcuts as well as Windows native utilities and Control Panel applets to Windows right-click context menu, so that you can quickly open them without having to manually navigate through different locations.  It lets you add items to both normal view and extended view (accessible via Shift+right-click) of the context menu. Furthermore, you have the option to create and edit cascading context menus, add specific items to either desktop right-click menu or Windows Explorer right-click menu and change the positions of items in context menus.
To begin, launch the application and head over to Desktop Default Single Menu tab to add applications' shortcuts to context menu.  From Add Program tab, specify the application source path and select its Position in context menu. Now, give it an appropriate name and hit Apply Changes to add item to context menu. You can add as many application's shortcuts to context menu as you want in similar fashion. to  If you check Extended Menu option, the item will be added to the extended context menu. The Advanced tab lets you add system locations like Internet Options, System Properties, User Accounts, Programs & Features, Task Manager etc., to context menu.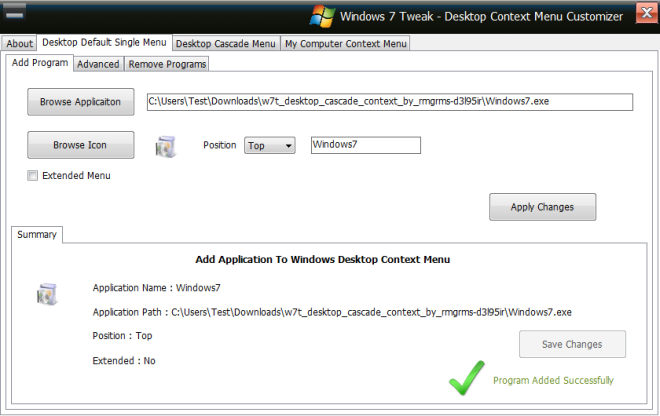 In order to add a cascade menu to the right-click menu, switch to Desktop Cascade Menu tab and then select Create A New Cascade Menu tab from Add New Cascade Menu window.Now create a new cascade menu and then head over to Add A Program To Cascade Menu to specify the application executable source path. Once done, click Apply Changes. Similarly, you can add multiple items in selected cascade menu.  The next three tabs let you re-order, edit and remove cascade menu items.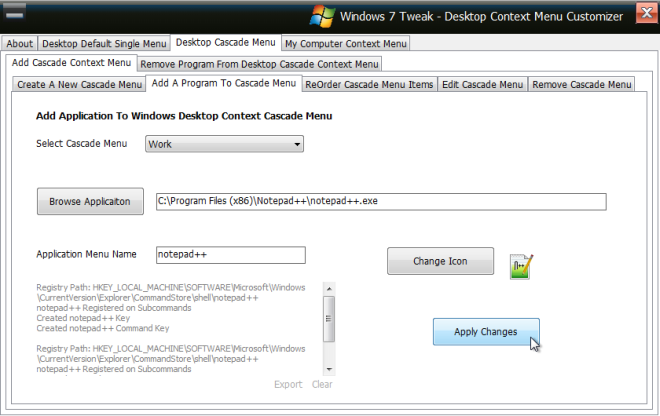 The cascaded menu will be created in the right-click context menu. All the grouped items can be accessed from the cascaded menu.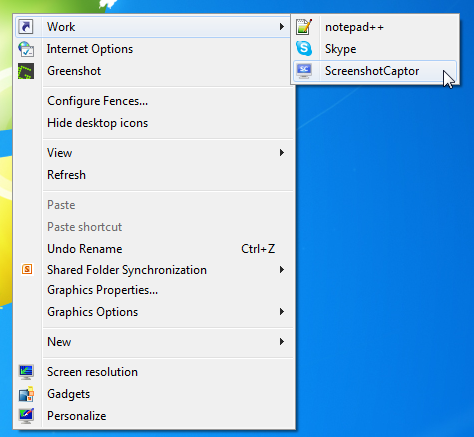 The cascade menu option is available only for desktop at the moment, and we hope that developer will include this option for Windows Explorer context menu in next release. Desktop Context Menu Customizer works on both 32-bit and 64-bit versions of Windows XP, Windows Vista, Windows 7 and Windows 8.
Download Desktop Context Menu Customizer