Capture Screenshots, Edit And Add Special Effects & Objects With Screenshot Captor
We have previously covered screenshot tools like Shotty and Greenshot, but if you are looking for a screenshot tool that lets you do more than just capture screen area, give Screenshot Captor a try. Screenshot Captor is a very extensive screenshot capturing tool that lets you take screenshots, edit them, add special effects, adjust colors, add objects and share with others. It lets you specify pre-capture and post-capture settings, special effect and drawing object options and file naming templates.
The application also allows you to create mailing lists to send captured items to others. It also enables you to capture and edit scanned images, and print them from within the application.
The main interface has File, Edit, Capture, GoTo, MoveTo, SendTo, View, SpecialFX, Object and Tools menus at the top. The folders and images panel is at the left, and image editing toolbar with options such as Save, Print, Add Shadow, Crop Selection, Add Object, Undo etc, appear on the right side. There is also a slider to zoom in and zoom out the images, with a massive range of 2% – 1000%, on the right side. The images appear in the center, and information about the current images appears at the bottom of the main interface.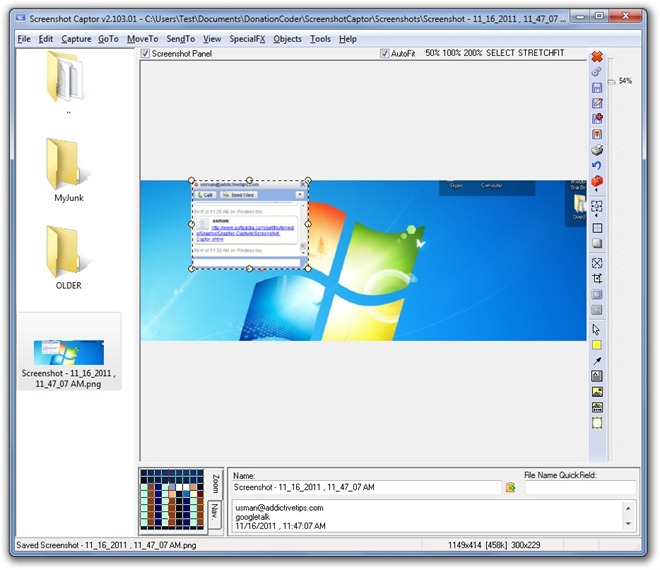 Screenshot Captor can capture screenshots for Current Screen, Selected Region, Active Window, Multimon Workspace, Selected Object, Fixed Size Region and Repeat Region Capture. After taking the screenshot, a dialog pops up with options to Discard Image, Keep Image and Show, Print Image, Keep Image and Hide, Save Image As, Image to Clipboard, Thumbnail Image, Filename to Clipboard and Send To (mailing lists). Choose the desired function by clicking on its respective button.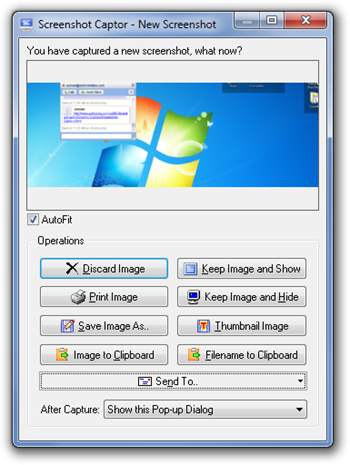 The Options dialog box can be accessed from Preferences under Edit. In Options, you can configure the application's General Settings, Saving and Loading Files, Hotkeys, Image File Format, Interface Options, Pre and Post-Capture Options, Special Effects Options etc.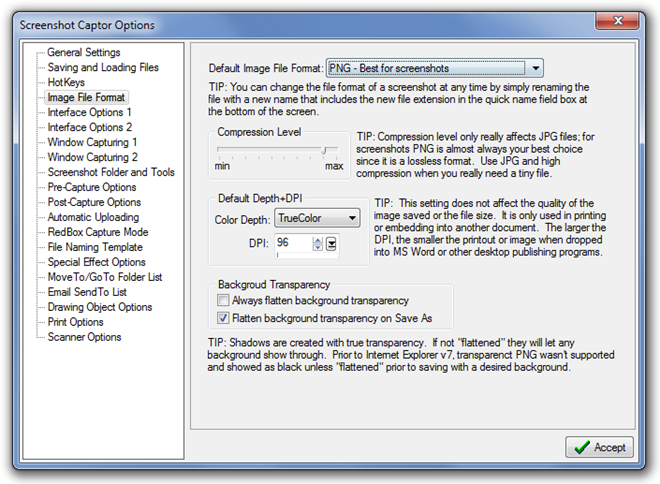 Screenshot Captor has a host of other options including Edit settings like Crop to Selection, Resize Image and Adjust Image to Current View, SpecialFX allows you to Enhance Selection, Blur Image, Adjust Colors etc. and Objects menu has options to Add Captions to Images, Merge Background Transparency and Send Objects Backward and Forward. Screenshot Captor is a massive tool with a lot more options included. You can check out detailed feature list on the product page. It works on all version of Windows.