Create Flow Charts, Network Diagrams, Circuits & More With Dia
Ever found yourself required to make flowcharts, network diagrams, circuit sketches and more at work or for studies? Dia is a strong and very powerful application meant for all such occasions. Presentations are a particularly powerful tool to communicate your ideas, and at times, plain old text is just boring. So, for those of you who have a tough time creating diagrams in MS Power Point or MS Word, Dia will make it much easier for you to convey your ideas, with an elaborate set of preset tools that are custom made for a plethora of subjects. Packed in a tiny 19mb to 30mb package (varying with the OS), the application's interface – as boring and dull as it might seem – is actually very intuitive, with stuff like copy, cut, paste, delete, dragging, skewing all coming naturally as they would in most popular software. Even better, a portable version of the app is also available. Read on after the break to learn more.
The app starts off with a neatly laid out interface, with the tools you need to get started located in the left panel, just like most drawing and editing software. With different line presets available, you either choose to go with them and manipulate later to create shapes, or you can simply choose from the presets of shapes available.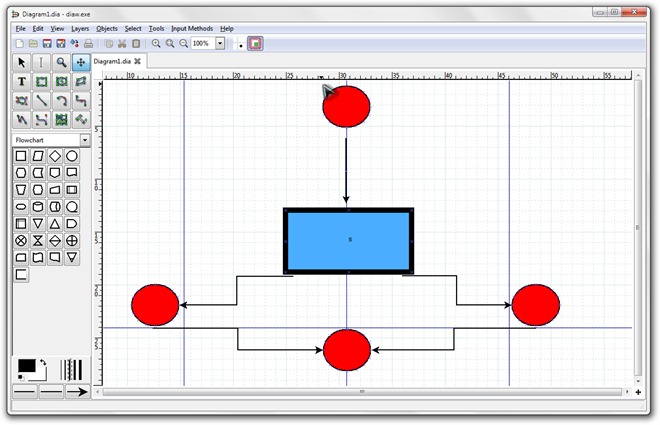 There's more than meets the eye when it comes to these shapes. Click where it says Flowcharts in the screenshot above, to open up an extensive list of sheets available. From circuits to Cisco network diagrams, the list is enough to accommodate diagrams of most sorts, as can be glimpsed in the screenshot below.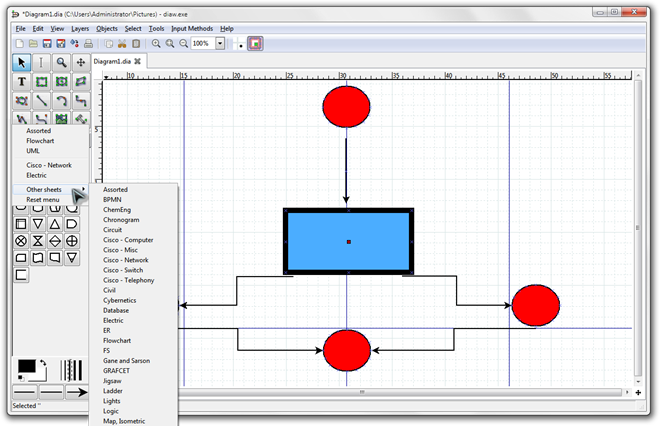 The properties of the objects inserted can be easily accessed by simply double clicking them, or by the rather-obvious Right click > Properties method. The screenshot below shows us the properties of the text inserted; however, doing the same for objects brings up options like line color, width, style, and more importantly, the fill color.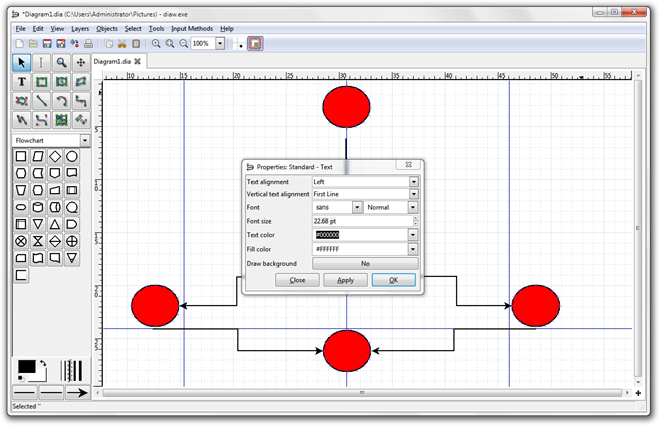 Concluding with saving your project, the application will preserve your work as a .dia file. However, you can save your file with numerous extensions by navigating to File > Export and selecting the format that you want to save your work in. Common image export formats include BMP, JPG, TIFF, PNG, and loads more.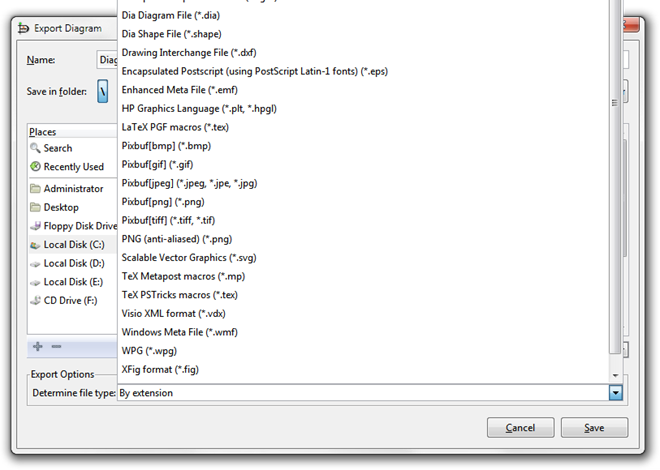 Dia is a cross-platform tool with packages available for Windows, Mac OS X and Linux, and comes in both installable and portable flavors. Testing was performed on Windows 7 Ultimate, 64-bit edition.
Download Dia for Windows | Linux | Mac