CloudDeck: Fully Functional Unofficial Desktop Client For SoundCloud
Being an avid music enthusiast, you might have already known about SoundCloud. It is an online audio distribution platform that allows collaboration, promotion and distribution of audio recordings by both amateur and professional artists. As SoundCloud lets you upload any kind of audio file and share it with other folks, it has gained a lot of popularity among the people. Sadly, SoundCloud service only has a web portal, and you need to open your browser every time you want to access the music. Previously, we covered a few different applications that allow to easily download music from SoundCloud, for instance SoundCloud Downloader, a desktop application for Windows and a user script called SoundCloud Super +2 that provides song recommendation and download facility. However, we didn't quite see a promising application that allows users to access SoundCloud without opening their browser, up until we came across CloudDeck. CloudDeck is a third party Adobe AIR based application that simply allows you to login to your SoundCloud account and access the musical database right from your desktop, akin to various desktop clients of other major websites. It enables you to search for music, create playlists, bookmark songs to playlist, download it if the uploader has enabled it eand so on. Keep reading to find out more about CloudDeck after a short break.
The application doesn't disappoint as far as its interface goes as it looks very neat and attractive. There are Playback controls at the top, Search box at the top-right, and different tabs to manage your music below the Playback controls. The Login and Settings dialog boxes can be accessed on the extreme top of the main interface.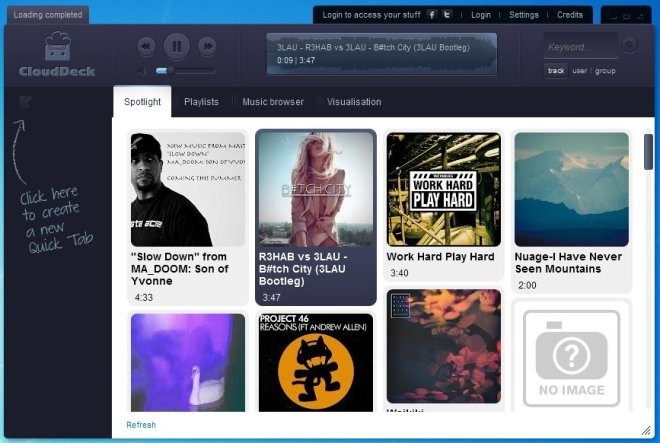 To connect to your SoundCloud account to CloudDeck, select Login at the top and enter your email address and password from SoundCloud and click the Connect button.
My Cloud tab allows you to manage different playlists, including Incoming Tracks, My Tracks, Favorite Tracks, People I Follow etc. All your playlists are appear under a separate Playlists tab.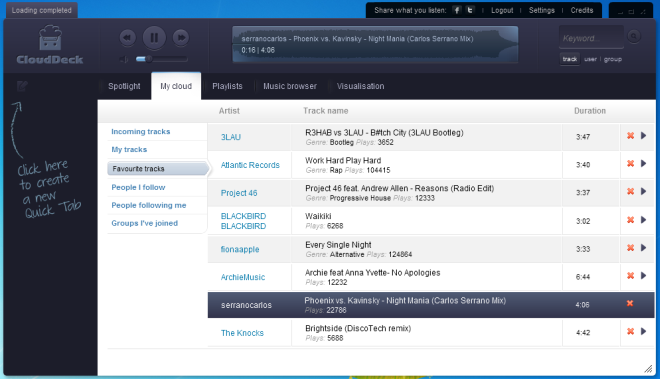 When you search for a song using the Search box, the results are displayed in the Music Browser tab.  It shows the related information such as Artist name, Track name and Duration listed. You may add the song to your Favorites, move it to a playlist or play it directly.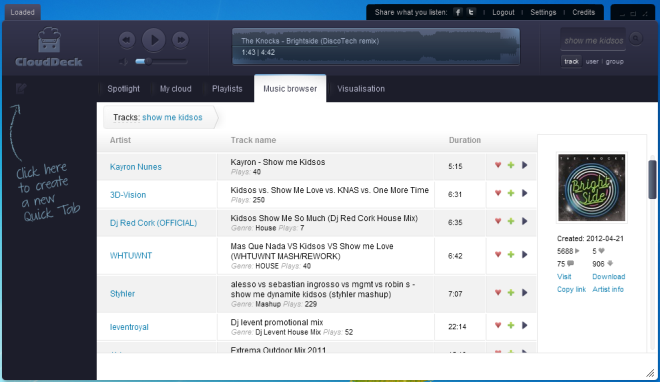 CloudDeck is an impressive solution for SoundCloud aficionados who need instant access to their account without relying on a web browser. The application works Windows & Mac, provided you have Adobe AIR installed on your system.