DeskScapes 8 Brings Wallpaper Effects, Animated & Video Backgrounds To Windows 8
It seems Stardock is paying very close attention to Windows 8. After creating some wonderful apps like Decor8 and ModernMix and selling thousands of Start8 copies, the company has also updated its DeskScapes utility for Microsoft's latest OS. DeskScapes 8 is not only a nice addition to Stardocks' fascinating line of customization tools, but it's also one of the most powerful wallpaper personalization app for Windows 8. The application puts various enticing desktop backgrounds at your disposal, letting you apply static, panoramic as well as Windows Vista's Dreamscene-like animated wallpapers to your desktop. Keep reading!
Most wallpaper customization apps only allow downloading the wallpapers and if it's your lucky day, you might come across one that also enables you to adjust the size and scaling of the images according to your display as well. DeskScapes 8 on the other hand, goes way beyond than that. Along with changing the wallpapers, you can overlay various effects on them. In addition, it enables applying Android-like animated wallpapers to the screen.
The interface of DeskScapes 8 looks clean and simple. The configuration window contains a few buttons to the right labeled Info, Adjust, Effects and Color, while the wallpaper thumbnails appear to the left. Even though the app comes packed with various images out of the box, you can also add custom wallpaper folders of your own. The application even allows you to filter wallpapers based on types including videos, panoramic, dynamic dreams, and hybrid dreams. To apply a wallpaper, select its thumbnail and click 'Apply to all monitors' button. Speaking of monitors, the app fully supports multiple display setups, and also contains an option to apply a different wallpaper to each screen.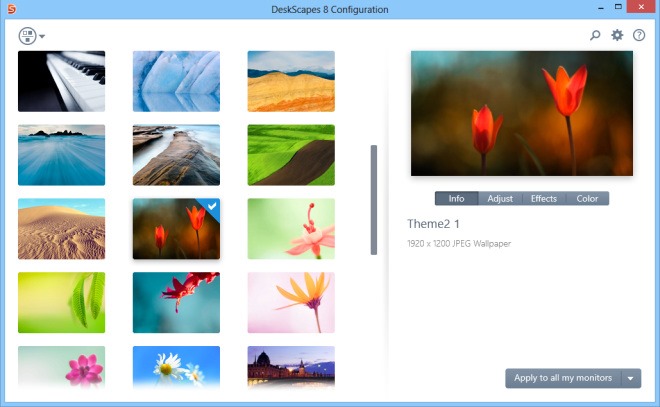 The Adjust tab, as the name implies, allows to adjust the size and scaling method of wallpapers, such as stretch, tile, center, fit, fill, stretch over monitors, and fill monitors. Leaving it to auto enables the application to automatically select the best settings for you.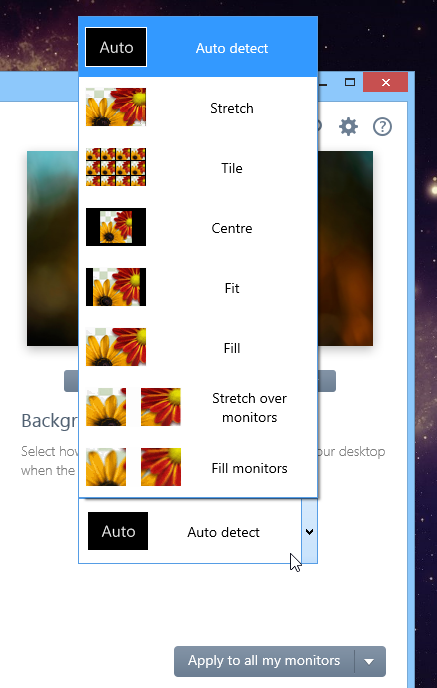 If merely changing the backgrounds isn't enough for you, you might want to try some of the post-processing effects DeslScapes has to offer. This feature literally breathes new life into even the most dull images. You can apply effects like stylized blur, textured, black and white, blue sky filter, alien world, invert and a truckload more.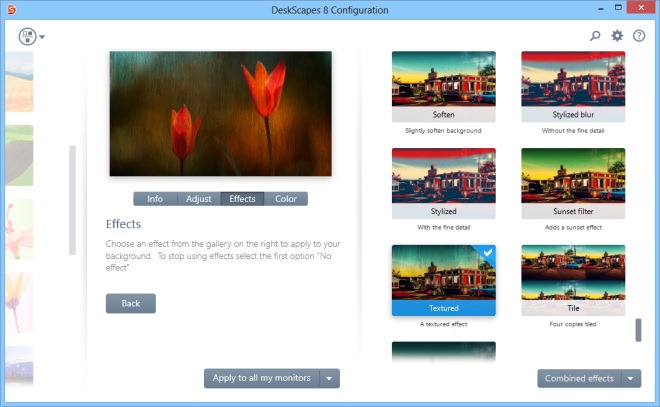 The application also allows changing the hue and saturation of the selected image. It's worth noting that you can apply effects and change colors for both static and dynamic images. Though in the later case, make sure your machine can handle that extra processing power required for doing this with dynamic wallpapers.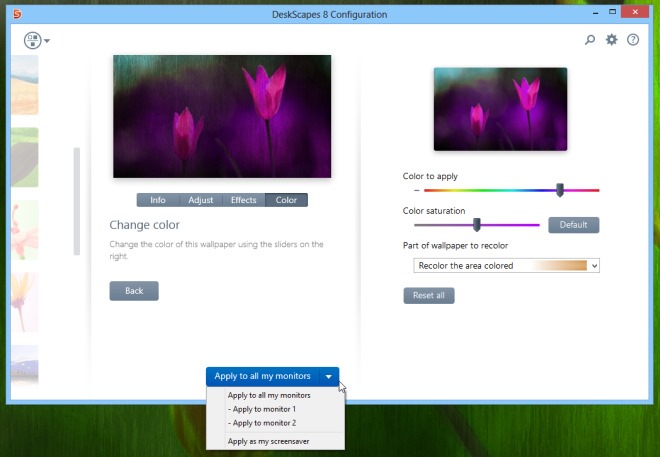 The Settings console lets you tweak a number of application-specific settings, all of which are housed under Performance, Folders, Advanced and Language tabs. Under Performance tab, you can tinker with image quality, and choose if dynamic wallpapers should be paused when your notebook or RT device is on battery power, in order to keep your battery from getting drained faster.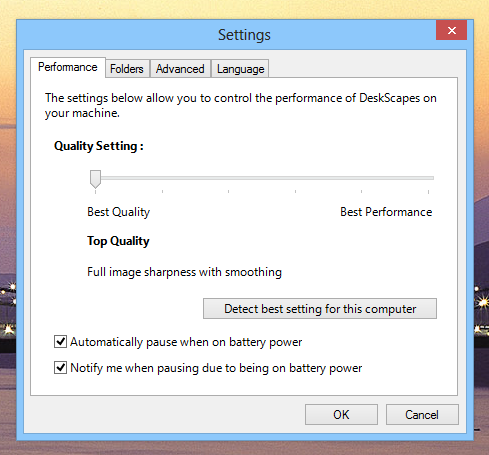 The Advanced tab contains settings for changing desktop icons transparency  in  normal and mouseover modes, along with a few other settings related to graphics cards, multiple monitors and maximized windows.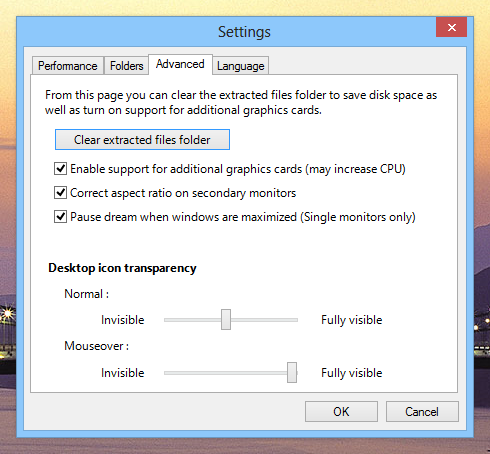 DeskScapes 8 has a price tag of $9.99. Though you can try the 30 days evaluation copy before spending money on it. Testing was carried out on Windows 8 Pro, 64-bit.