Stardock ModernMix Runs Windows 8 Store Apps In Windowed Mode On The Desktop
The significantly revamped Windows 8 has been at the center of the spotlight since its unveiling, and as we mentioned in our Windows 8 review, it's up to the users to decide whether they fancy the new Modern UI philosophy or not. Speaking of Modern UI, the gripe most users have with the new Windows is that you have to move away from the legacy desktop environment to use its new Metro-styled apps. Those who've been following us for a while would know that back in November, we covered an update of the Windows 8 app RetroUI Pro, which allows users to run Modern UI apps in windowed mode, right within the desktop environment. If you liked that feature then you'll probably love ModernMix from Stardock, the team behind popular Windows 8 apps like Start8 and Decor8.
Currently only available in beta, ModernMix allows switching full-screen Modern UI apps to windowed mode so you may run them on the desktop. This makes using multiple Windows Store apps simultaneously a more convenient experience, since you get to control them directly from the Taskbar. You may also feel a significant improvement in Modern UI multitasking if you have a large display or a multi-monitor setup.
The usage of ModernMix is dead easy. The configuration window lets you specify separate launch behaviors for Modern UI apps when they're opened from the Start Screen or desktop. The application lets you select three different states, i.e. Fullscreen, Maximized and Windowed.
If the 'Always use the last state of the application' option is enabled, ModernMix will remember the last launch mode of the app and will retain it the next time it is opened. That's quite handy, since you won't have to resize the window, or change launch mode every time you run an app. You can also toggle some additional parameters, such as an overlaid icon to switch modes on the fly, the flip animation that appears when starting an app, and taskbar icons for Modern UI apps. You can also define a custom hotkey to switch between modes via keyboard.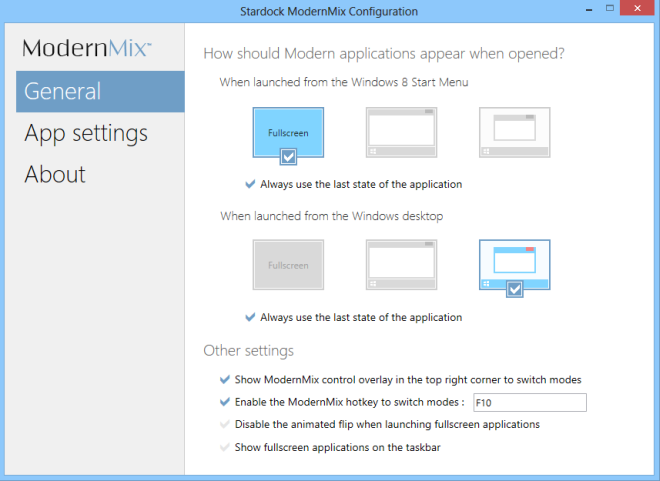 The good thing about ModernMix is that the apps automatically rescale their UI when you resize their windows – an essential feature that was missing from RetroUI Pro.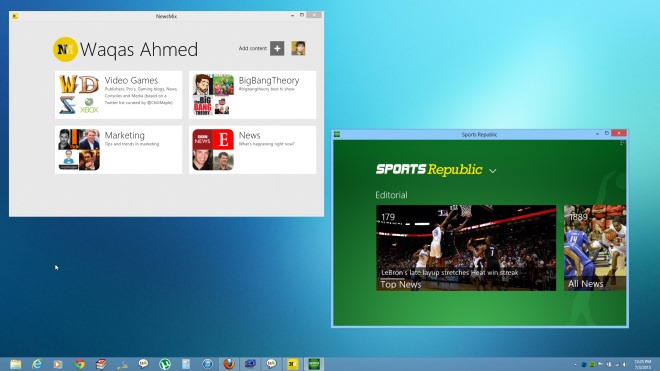 You'll find a small unobtrusive icon for the aforementioned mode toggle in the top-right corner of each Modern app.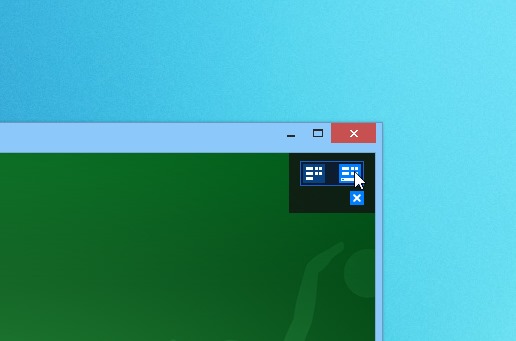 As mentioned earlier, each app's last state is automatically saved by ModernMix. This information is logged under the 'App settings' tab. You can change the saved state of an app from its right-click menu, as well as remove settings for individual or all apps that were run after installing ModernMix.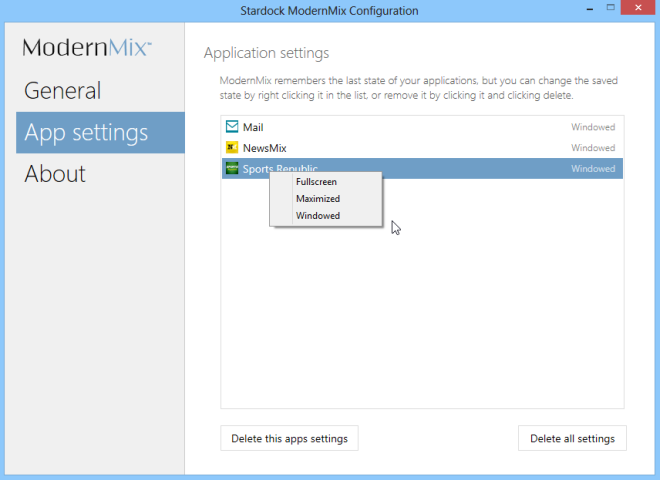 In a nutshell, Stardock has done a marvelous job in implementing this concept that, in all honesty, Microsoft should have included in Windows 8 in the first place. ModernMix is a paid application with a price tag of $4.99, but you can utilize its free 30-day trial before shelling out your hard earned cash. Testing was carried out on Windows 8 Pro, 64-bit.