How to push Devices and drives to the top in This PC on Windows 10
This PC is one of the two locations that File Explorer can open to by default. The other location is Quick Access. This PC features three types of items; folders, Devices and drives, and Network locations. Folders appear at the top and lists library folders like Downloads and Pictures and Desktop, Devices and drives appears next and features all your internal and external drives, as well as phones, and SD cards. The last is Network locations and it will show media devices, network drives, and network folders if any are available.
If you do not like the Folders appearing at the top, and would like to give preference to Devices and drives which you access more often, there is a workaround.
Device and drives in This PC
This PC shows you items that are grouped a certain way and grouping is a simple File Explorer feature. Like with any other folder that you access in File Explorer, you can choose how the items in This PC are displayed and use that to your advantage.
Open This PC and right-click in an empty area. From the context menu, go to Sort by and select 'Descending'.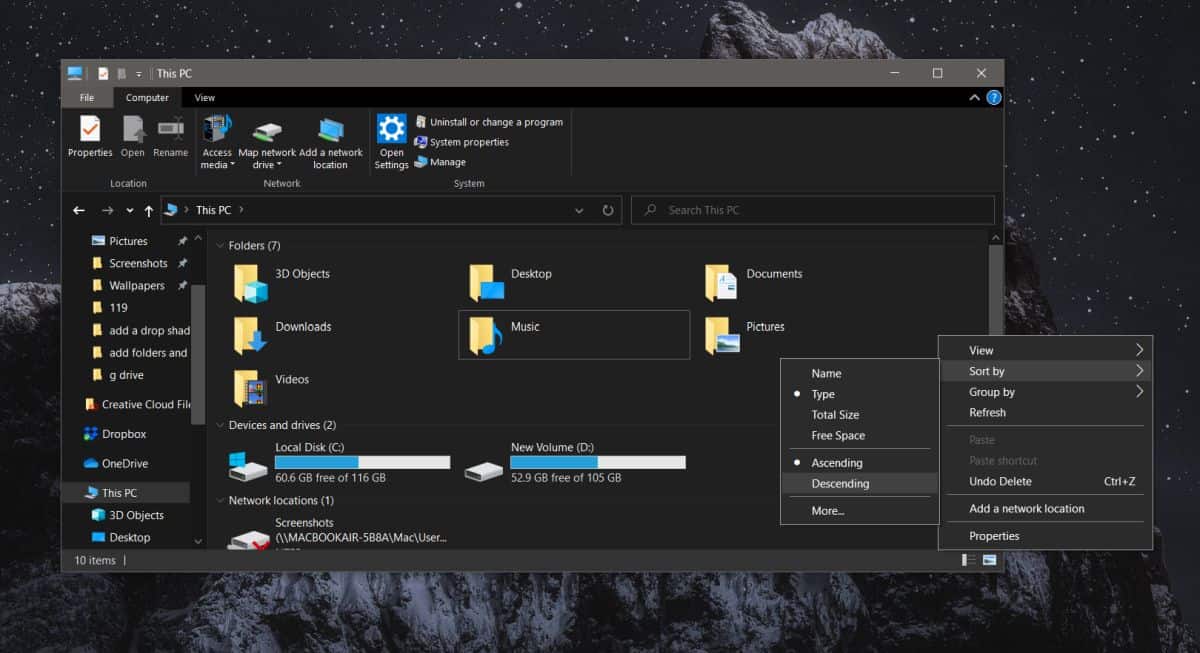 Once you do that, Folders will be pushed to the bottom, and Device and drives will be pushed to the top. Network Locations, which were previously at the bottom, get the topmost spot.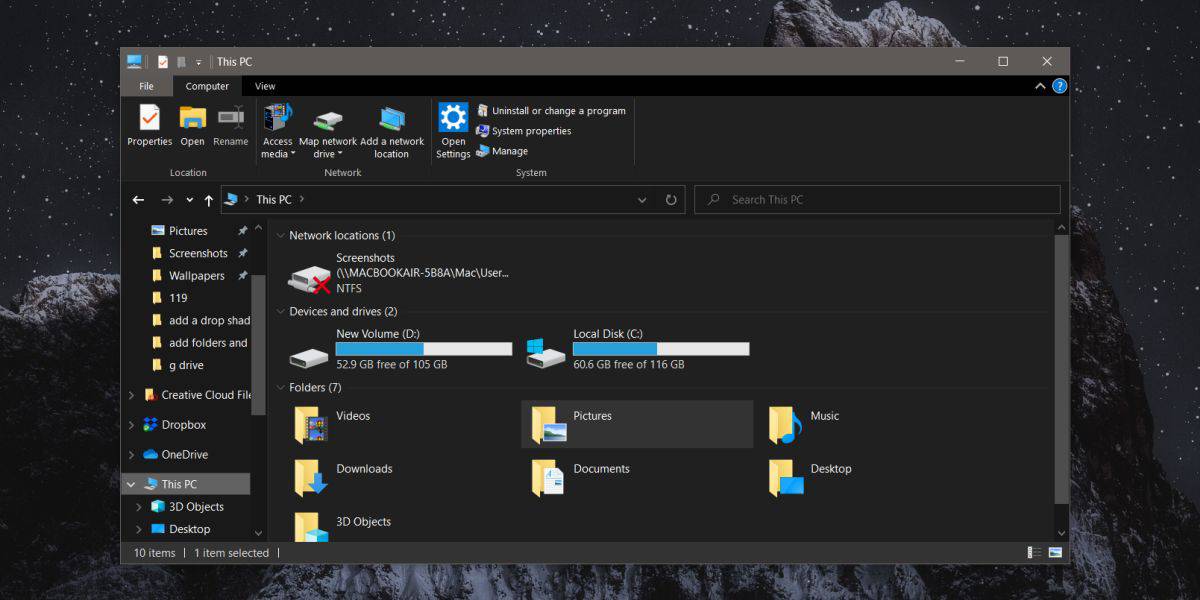 After this, you may start going through the alphabet again wondering why Network Locations is at the top when folders have been pushed to the bottom. This is because the ascending and descending order is not for alphabetical sorting. This PC is sorted and grouped by 'Type' by default and it seems that Network Locations are higher up in the list of items than devices and drives, or folders. This categorization has been done by Windows so there's no way to change it.
If you're looking to sort items in alphabetical order, you need to change the sorting and grouping criteria to 'Name'. Doing this has a rather huge side-effect; the items are no longer grouped into Devices and drives, and folders, etc. If this arrangement doesn't work for you, you can explore the other sorting and grouping options that File Explorer has. It is possible that one of those options might give you a layout that suits you better. We should caution you to stick to File Explorer's sorting and grouping options and not try registry hacks for This PC. It might cause problems down the line.