Get File Explorer To Open This PC Instead Of Quick Access In Windows 10
When you click the File Explorer icon in the taskbar it opens the 'Quick Access' location. Quick Access isn't a folder location in itself but more a virtual location where you can see all the recent files and folders you accessed. It's quite useful and definitely lives up to its name.That said, if you find it isn't as helpful as it claims to be, or your needs are simply different, you can have File Explorer open to a different location i.e. My PC (or as we called it in Windows 7; My Computer). At present, My PC is the only other supported location that you can set as the default for File Explorer until someone finds a way to modify it. Here's how to make the change.
Open File Explorer and go to the View tab in the ribbon. At the very end you will see an 'Options' button. Click it and select folder options.  In the Folder Options window, you will see a lot of options that were present in older versions of Windows, however, the General tab has something new.
In the General tab, pull down the 'Open File Explorer to' drop-down menu and instead of the 'Quick access' option, select 'This PC'.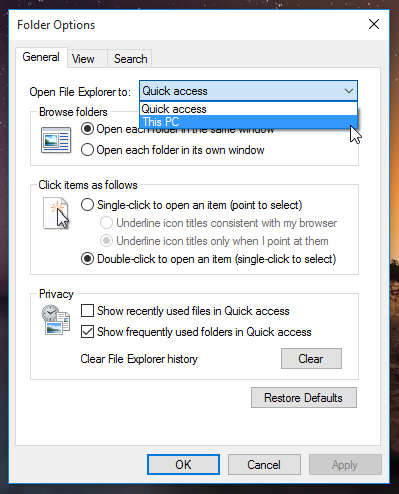 Close File Explorer and the next time you open it, either from the Start menu or from the Taskbar, it will open to My PC listing all connected drives. It doesn't really make sense for Microsoft to offer any other location that would need to be visited as frequently as the two already given so if you're hoping to assign the default location for File Explorer to any other folder, you might have to hold off until someone develops an app to do it.