How To Disable Timeline In Windows 10
Windows 10 Spring Creators Update has yet to arrive. The April 10, 2018 date has come and gone and Microsoft has decided to delay the release. There's no new date just yet but users are still expecting the update to drop this month. The Spring Creators Update has a slew of great new features and Timeline is one of the most anticipated features of this update. It will let you pick up your work from where you left it off a few days ago and it's integrated with multitasking. If you're not a fan of the feature though, you can disable Timeline fairly easily.
Disable Timeline
To disable Timeline, open the Settings app and go to the Privacy group of settings. Here, click the Multitasking tab.
On the Multitasking tab, look under the Activity History section. You will see an option called 'Let Windows collect my activities from this PC'. It will be enabled. Disable it by unchecking this option and it will disable Timeline.
If the second option under this section i.e. 'Let Windows sync my activities from this PC to the cloud' is enabled, you should disable it as well or your activities will sync to other PCs that are connected to the same Microsoft account.
When you disable this option, Windows 10 will no longer keep track of your activity however, it does still have your activity from before you disabled Timeline. In order to purge it, you need to remove your Timeline history.
Scroll a little further down this same settings panel and you will see a section called 'Clear activity history'. Click the Clear button under it, and confirm that you want to remove your activity. Once removed, there is no way to recover it so be absolutely sure you won't need to go back and check what you were doing on a given day/date.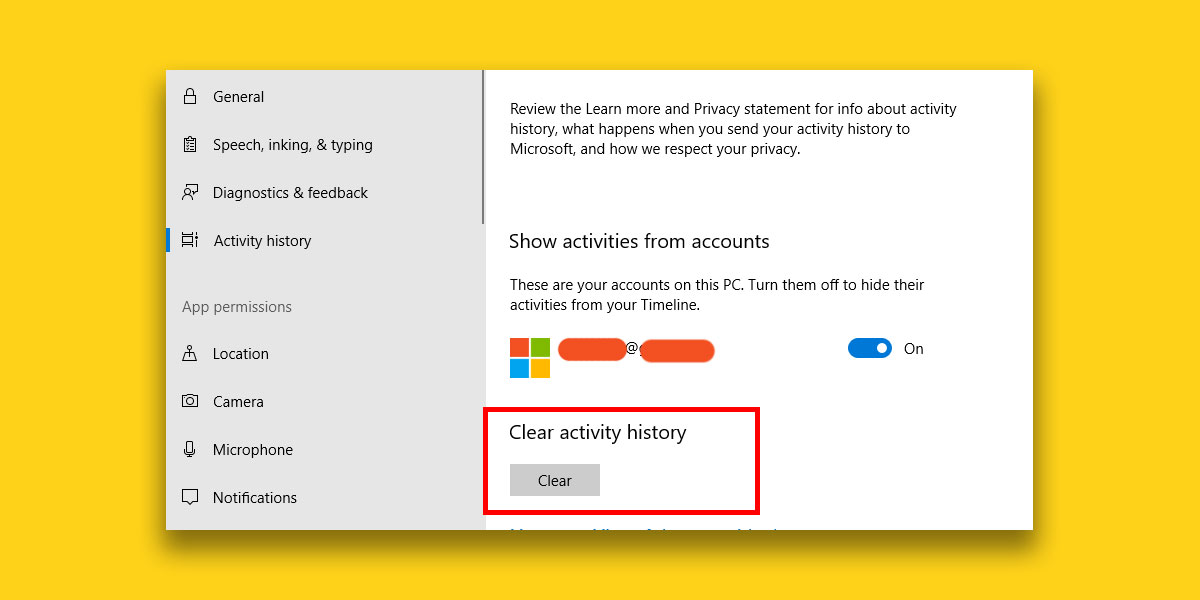 Activities Stored On Your PC
Your Timeline activities are stored on your PC unless you choose to sync them across devices. If you're worried Microsoft is keeping a tab on what you're doing through Timeline, that's not the case. The sync option does send the information to Microsoft's cloud servers so it can be synced to your other devices but it's not necessarily pulling a Facebook Cambridge Analytica.
If you like the feature but want to keep your activities away from Microsoft, you can disable sync, and still allow Windows 10 to collect your activity and show it to you in Timeline.