How To Disable Windows SmartScreen For Edge On Windows 10
Browsers can be a serious security risk if you aren't careful about the websites you visit, what you click on, and which add-ons you install. While it's important to browse carefully, your browser also needs to offer some basic protection. Chrome, for example, now treats all HTTP sites as unsafe. Microsoft Edge doesn't block HTTP sites but it does scan websites as well as the files you download. Like Chrome, Microsoft Edge will prevent you from downloading a file if it deems it to be unsafe. Edge uses the Windows SmartScreen filter to scan downloads. If you're trying to download a file and the filter won't let you, you're going to have to disable Windows SmartScreen for Edge.
Windows SmartScreen is an omnipresent security feature on Windows 10. It runs whenever you try to install an app, run an EXE, run a script, open Command Prompt with admin rights, etc, it asks for admin rights. Turning it off is never a good idea. With Microsoft Edge, there's an option to disable Windows SmartScreen for just the browser and leave it running for everything else.
Disable Windows SmartScreen For Edge
Open Edge and click the three dots button at the top right. Scroll to the end of the panel and click Settings. On the Settings panel, scroll to the end again and click the View Advanced Settings button. Again, scroll to the bottom to the Cookies section. Here you will see an option 'Help protect me from malicious sites and downloads with Windows Defender SmartScreen' and it will be on by default. Switch it off to disable Windows SmartScreen for Edge.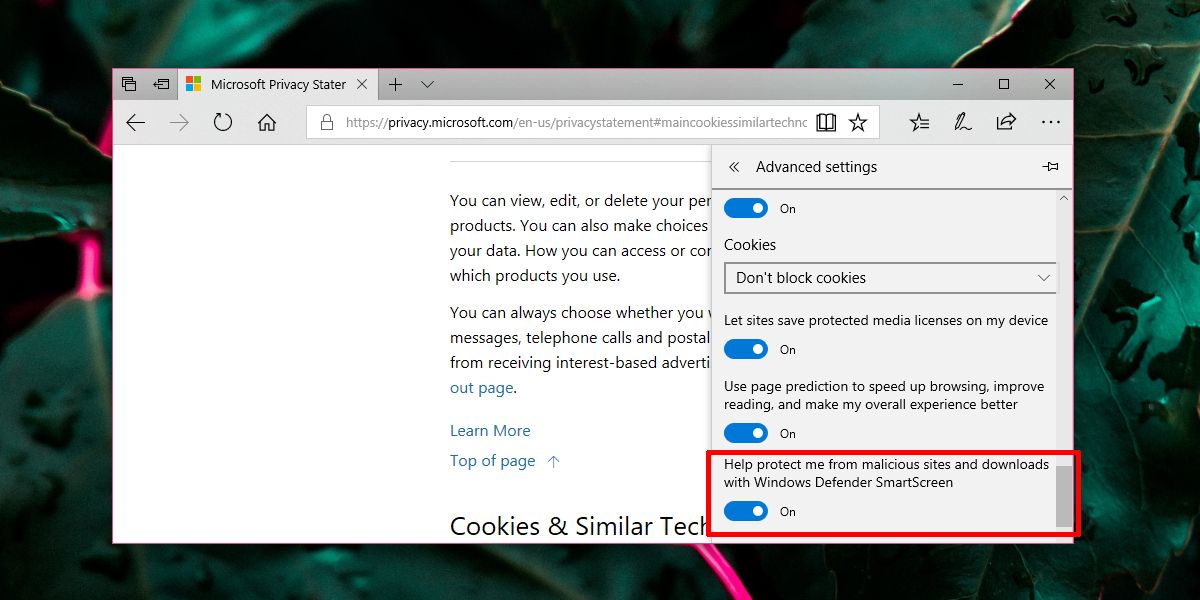 A Word Of Caution
Security features, whether they're in your browser or on your OS, are there to keep you safe. They are conservatively strict to protect end users who know little about keeping themselves safe online and they do detect false positives. This is why at times you might need to disable the protection they apply. That said, you should only disable protection to visit a website or download a file that you know is safe. Once you've downloaded a file, enable SmartScreen again.
You shouldn't disable Windows SmartScreen for Edge just to get a file or visit a website. If you're not sure of the integrity of either one of them, it's best to try and get your information elsewhere rather than risk downloading a file or visiting a website that may be malicious.
Likewise, if you're trying to run an app that you know is safe and Windows 10 is blocking it, you can toggle Windows Defender real time protection to run the app, and then enable it again. Remember that trust is key here, that and downloading apps from reliable sources only.