DiskTune: Fat, Fat32 & NTFS Disk Optimizer And Defragmentation Utility [DNP]
Your hard disk can crash at any time, taking down all your saved data with it, and because of the huge capacities of hard disks available these days, one cannot afford to lose so much data. Taking care of your hard disk is very important if you want to avoid crashes and logical bad sectors. In order to do that, you need to regularly clean your hard drive from junk files and defragment all local partitions to boost the data access speed. Earlier, we have covered some defragmentation applications and disk cleaners, such as Free Disk Defrag, a Windows defragmentation tool that can defragment hard disks efficiently, and at a fast rate, Jwansoft Disk Defrag, a third party defragmentation application for Windows that allows lets you defragment your hard drive in a much better way than the native utility, and FixBee, a utility for Windows that enables you to defragment, as well as clean your PC. Today, we have a portable disk defragmentation utility for FAT, FAT32 and NTFS formatted drives called DiskTune. It allows you to create jobs to perform repetitive defragmentation and optimization tasks. You can choose to schedule the defragmentation tasks or launch them anytime with a click. There are 3 defragmentation modes to choose  from: Defrag (simple defragmentation), Compact (fill free space gaps) and Optimize (optimize file placement for booting and general usage).
According to the developer, DiskTune relies on the proven and reliable Windows defrag API to move files. Before starting defragmentation, it checks the current volume state. The application features a VSS safe-mode that reduces interaction between defragmentation and shadow copies, as well as a thermal monitor to protect the hard disk from overheating.
When you run the application, two windows pop up: one to select the drive and the other to start the defragmentation process. Click the More button in the drive selection window to reveal extended options. It allows you to select a drive volume, toggle VSS safe-mode, enter custom extensions to skip during defragmentation and create task shortcut on your desktop.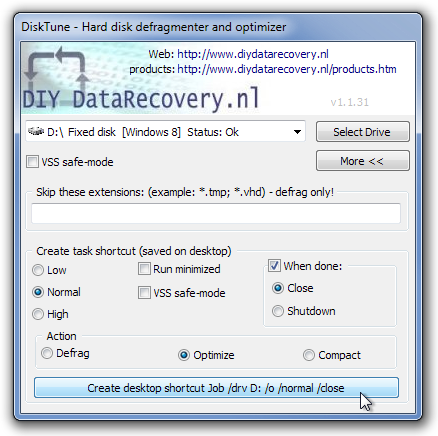 Other than the simple defragmentation, the application allows you to Analyze the selected drive, Optimize it and Compact files (fill free space gaps).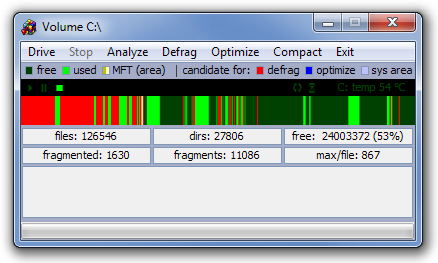 Once the disk is analyzed and fragmented segments are found, click Defrag to start the defragmentation process.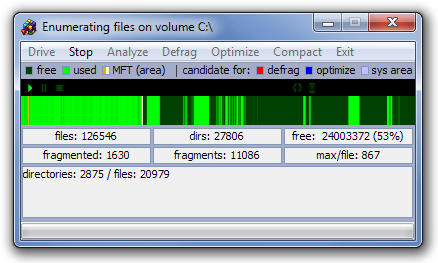 More information on the tool is available on the product page. DiskTune works on both 32-bit and 64-bit versions of Windows XP, Windows 200X Server, Windows Vista, Windows 7 and Windows 8.