Display Live Web Page Content On Your Desktop With Snippage [Widgets]
Snippage is an awesome adobe air desktop app which allows you to capture a portion of any web page and then use it as a widget on your desktop. If you find a portion of a web page that is useful and frequently updated, you can snip it and then view that portion live from your desktop.
The application itself gives an eye-candy look and comes with a great interface. On start, click the 'Expand to browser view' icon where it says Click Me and it will change to browser view.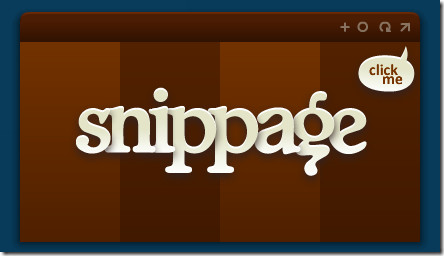 Now visit any favorite website or web page from which you want to snip a portion. Drag and resize the snip box and hit the Snip View icon on upper-right corner of the box.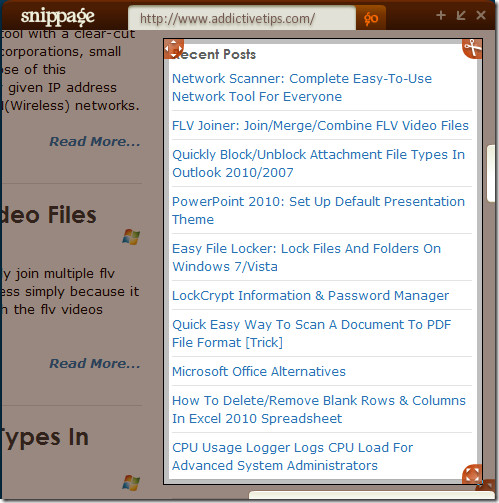 The result can be seen in the screenshot below. Pretty neat, huh?
You can snip any portion of the website, even Google Search. Next time you want to search, simply enter the term and hit Enter. The results will open in a new window of your default browser. The same goes with links, every link clicked will automatically open in a new window.

In layman's term, you create a widget out of any portion of a web page. To create a new widget, hit the 'Make New Snip' button(which is the + sign). By default it refreshes that portion routinely, you can disable this feature in few cases, such as, when you have snipped a Google search box.
Since it is developed on cross-platform Adobe Air, it works on Windows, Linux, and Mac. The only downside is the resource usage(which is 50MB RAM). Adobe Air apps usually take a lot of RAM and Snippage is no exception. The latest version of Adobe Air promises to take far less system resources, you might want to wait until then before giving it a shot.