Delete Files And Folders Permanently With Eraser
Most people use the default Delete functionality to delete their files. Some use Shift+Delete hotkey to remove the file both from their hard disk and recycle bin. Many users know that the file when deleted from the hard disk can still be recovered as we have reviewed such recovery software before(FileUndelete, Recuva, and DiskDigger).
Also there are some tools that erase the data from the disk in such a way as to make them unrecoverable, RightDelete is one example.
Eraser is however the only complete tool which can delete the files permanently and make them unrecoverable. Why complete? Because apart from the context menu option, it provides a complete user interface to schedule delete the data, monitor process, and access bunch of useful settings which can come handy depending on various situations. Another important reason why I like to call it complete is the availability of 14 different methods to delete a data.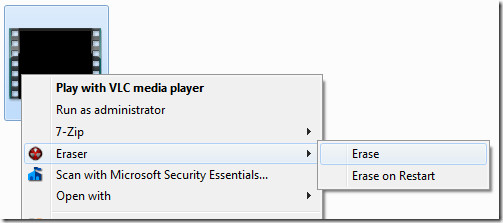 To permanently delete a file with Eraser, right-click the file/folder and select Eraser option. Here you can either choose to Erase the data now or on restart. Once Eraser starts deleting the files, you are notified immediately by a notification window and an animated system tray icon.
Double-click the system tray icon and you will see the main interface of Eraser from where you can always cancel the task, view log, etc. You can also create a manual task that contains the defined data and choose it to run on specified time.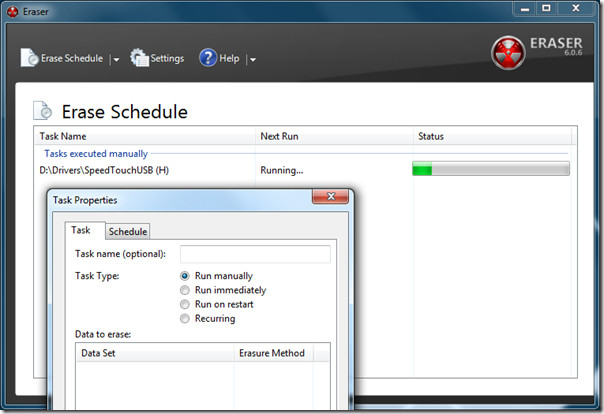 Please note that since it overwrites the sector of the hard disk with junk data over and over again, the process of deleting the files permanently with Eraser takes some time. It might be faster or slower depending on your system and the number of files and folders.
Hit Settings and you can choose the Erase Settings from here. By default it uses Gutmann(35 passes) erase method but can be changed to any of one of the 14 given methods. You can also select to force a locked file/folder to be erased and choose to replace the erased files with any other files.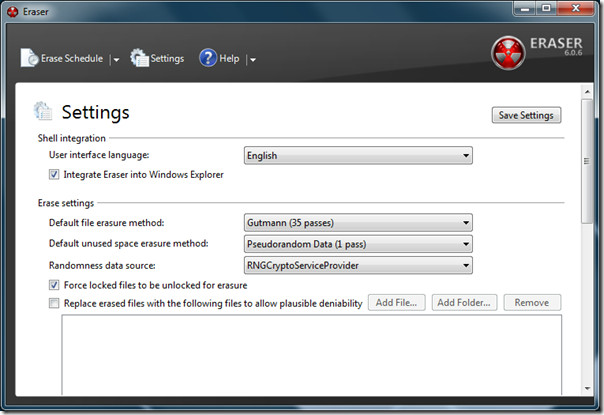 Below the Erase Settings you will find the Scheduler settings, useful for those who run Eraser on schedule. Also there is an option to enable/disable given plugins. All in all, it is one complete utility to permanently delete your confidential data without worrying about it being recovered. It does not slow down the system performance in any way(except while removing the files) and works seamlessly.
It works on Windows XP, Windows Vista, and Windows 7.