Permanently Delete Windows Files With RightDelete
Every file that you delete from your computer is not completely erased. Even if you have emptied your recycle bin your files can still be recovered using different recovery tools. To delete any file permanently from windows, you will need to securely delete it.
RightDelete is one nice little tool that allows you to permanently delete any file from windows securely, so that it becomes unrecoverable in the future. According to the publisher,
RightDelete uses the seven pass method, i.e overwriting the content with $00, $ff, $00, $ff, $00, $ff, random(256), before the file is actually deleted and buffers flushed. This will ensure the file is no longer recoverable SO be sure you want to delete the file selected!
Unzip the software, and run the Rightdelete.exe file, it will ask if you want to add RightDelete to the context menu, click OK. Now simply right-click any file that you want to delete and select Securely Delete This File.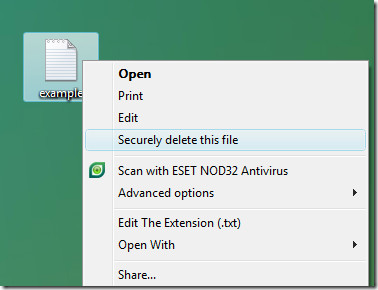 It will then ask for a confirmation, click OK to continue.
That's all. Now the file has been permanently removed from the system and is no longer recoverable. It works with Windows 98/ME/2000/XP/Vista, while Linux and Mac OS are not yet supported.
Note: Since the right-click context menu option is added by making a change to the registry, before deleting this program make sure that you run Rightdelete.exe again and remove the option from the context menu.
This is the best way to delete all important files that you no longer need. Enjoy!