Download Advanced System Care Free
At AddictiveTips, we have covered some free system cleaners before such as, Comodo System Cleanser, Perfect Utilities, And lots of others. Advanced SystemCare Free(formarly Advanced WindowsCare Personal) is yet another system cleaner but unlike others it comes with a build-in security feature.
IoBit says that it has more features than CCleaner(the widely popular system cleaner) and most commercial cleanup utilities out there. To back their claim they have provided a simple comparison chart on their page(which is also show below).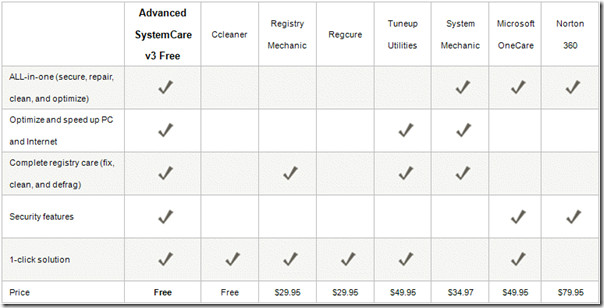 It is basically made up of three main features, Maintain Windows, Diagnose System, and Utilities. Just click their respective tabs and you will see the functions on the right side of the window. Select the functions and click Scan, once it is complete, click Repair to fix them. You can also view further details about the errors by clicking the link while the scan is still in progress.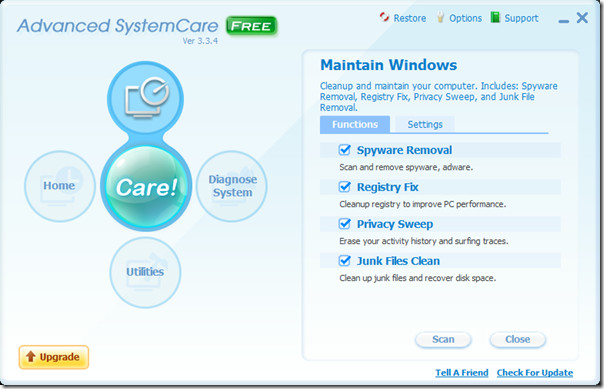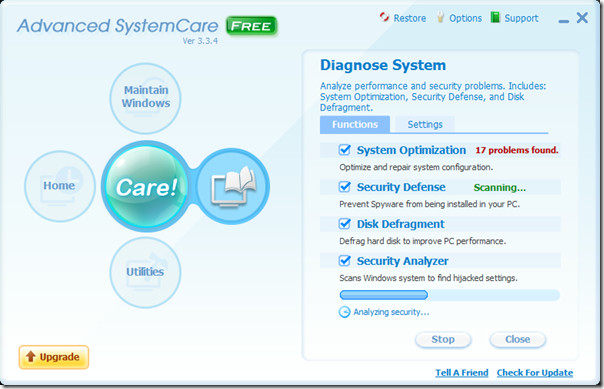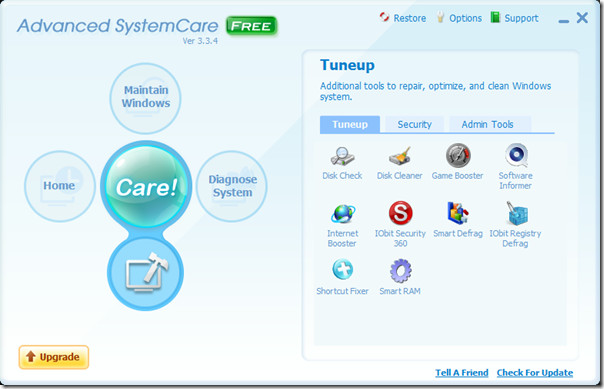 Maintain Windows contain options to remove spyware, clean & fix registry, clean privacy, and remove junk files. Diagnose System contain options to Analyze Performance and Security Problems. And Utilities contains various three small tools, TuneUp, Security, and Admin Tools. They can be used to repair & optimize system, protecting the data & securing the system, and for managing the whole system.
On the Home window you will find four exclusive features – Automated Care, Automated Update, Automated Sweep, and Ultimate SpeedUp. These features are turned off by default but can be turned on by clicking each one of them respectively.
In my opinion, this tool has gotten the complete overhaul and if you are not afraid to try out new software then give this one a shot.
It works on Windows 2000, Windows XP, Windows Vista, and Windows 7. Both 32-bit and 64-bit versions are supported. Enjoy!