Easy Way To Create Symbolic Directory Links In Windows 7/Vista
The process of creating a symbolic directory link for a folder in Windows 7 and Vista is a serious time waster. Creating a target folder, coping content to this folder, deleting the folder that you want to be linked, and then entering the command in command prompt, doesn't sound like an easy process.
Directory Linker is a portable opensource tool which makes creating a symbolic directory possible in just a few clicks. Choose the link location and the folder that you want to link too and hit Go. In case the link location already exists, you can choose to delete the content inside it or first copy them to the target folder and then delete the content.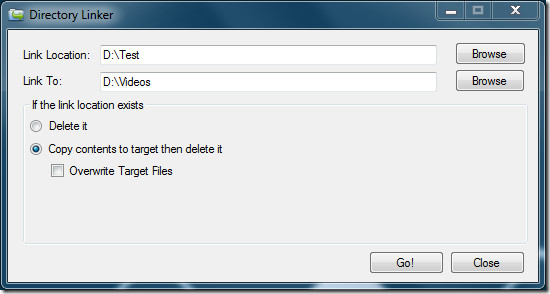 Once a symbolic directory link has been created, you will see the results as shown in the screenshot below. The Link Location directory will be converted into a shortcut and will link to the folder of your choice. As you can see in the screenshot below, the Test folder's Properties is showing Videos folder as target location.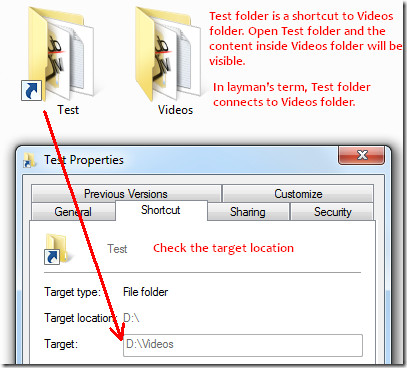 The developer plans to add additional features, the most important being an option to rollback changes when an operation fails. The app works on Windows 7 and Vista only, support for Windows XP is planned in the near future.
It works on both 32-bit and 64-bit version of OS, .NET 3.5 Framework is required.