Shoot-out: Dropbox vs. SugarSync
Backing up files in the cloud has become an activity that has been made sufficiently intuitive to actually improve productivity. Easy-to-use automatic backup clients like Dropbox, Live SkyDrive and Mozy give people easy backup or synchronization facilities. SugarSync is another player in the folder synchronization segment, allowing you to have your files available on all your computers, as well as online. A direct comparison between SugarSync and the better-known Dropbox is the crux of this article.
Plans
It appears as if SugarSync is really focused on keeping as close to its competitors as possible. For starters, the free plan is – as with Dropbox – 2GB by default. One can invite someone or be invited, which will give you both an extra – as with Dropbox – 250MB, up to – as with Dropbox – a 5GB max (you might get 5GB extra instead of max. 5GB in total, but that wasn't at all clear). However, when we have a look at the (individual) payed plans, SugarSync does a lot better than Dropbox: for $119.88 a year one can get 50GB for Dropbox, while you get 60GB for $99.99 at SugarSync. A year of Dropbox's Pro 100GB plan will cost you $239.88, but no more than $149.99 for SugarSync's services. In short, when you need lots of space, it's quite expensive for both services, especially compared to Google's current rates (which does NOT include such a backup client, though), but between the two SugarSync is significantly cheaper.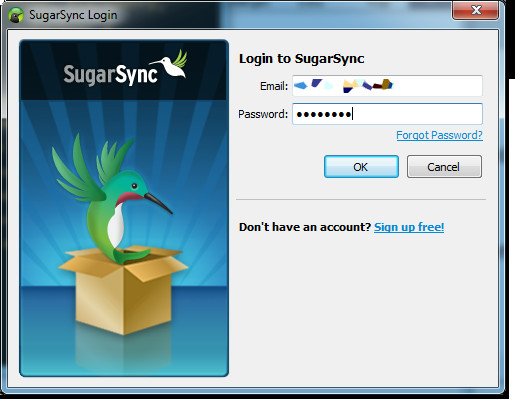 Installation
After registration – in which you get a nice username.sugarsync.com subdomain – we see the first difference between Dropbox and SugarSync: Dropbox supports Windows, MacOS as well as Linux where SugarSync lacks the latter. However, SugarSync is well-represented in the mobile segment: Dropbox has an iPhone application, but SugarSync tops that with support for iPhone, BlackBerry, Android and Windows Mobile. This gives SugarSync a significant advantage.
During the installation, I found it quite elegant that SugarSync gives a warning before it momentarily closes Explorer in order to load SugarSync's Explorer extension. This extension will point out per file and folder whether it is synchronized (similar to Dropbox's Explorer extension). Last time I checked, Dropbox doesn't give this message on installation, something that'll lead to a loss of all opened Explorer windows without any warning. With SugarSync, you can even choose to skip loading its extension for the moment.
The sign-in screen with a nice hummingbird or robin gives a Twitter-like appearance, and the icons/avatars you can choose for registering and identifying your computer are quite childish, but sufficient.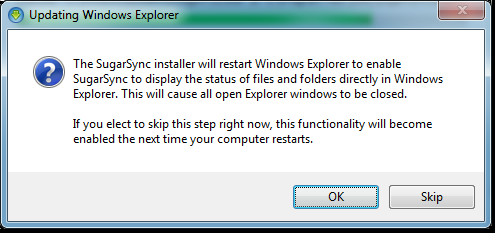 Configuration
SugarSync allows you to sync more than one folder between a number of computers. You can set up per system which folders need to be synchronized. In addition, the Magic Briefcase sort of works like the Dropbox folder: whatever you put in there will be synchronized between all your computers. This gives SugarSync a whole lot of extra versatility compared to Dropbox, something I consider to be a significant reason to choose for this service.
Most of the Manager software is worked out into more detail in the web interface: the selection of the folders to be synchronized is the spearhead of the whole, apart from a slider to select the bandwidth usage (low, medium, high). Overall the upload speed was quite low. On specification of the folders, it would have been even better if one could group the selected folders under virtual folders/groups, instead of the current presentation of all folders in one flattened structure.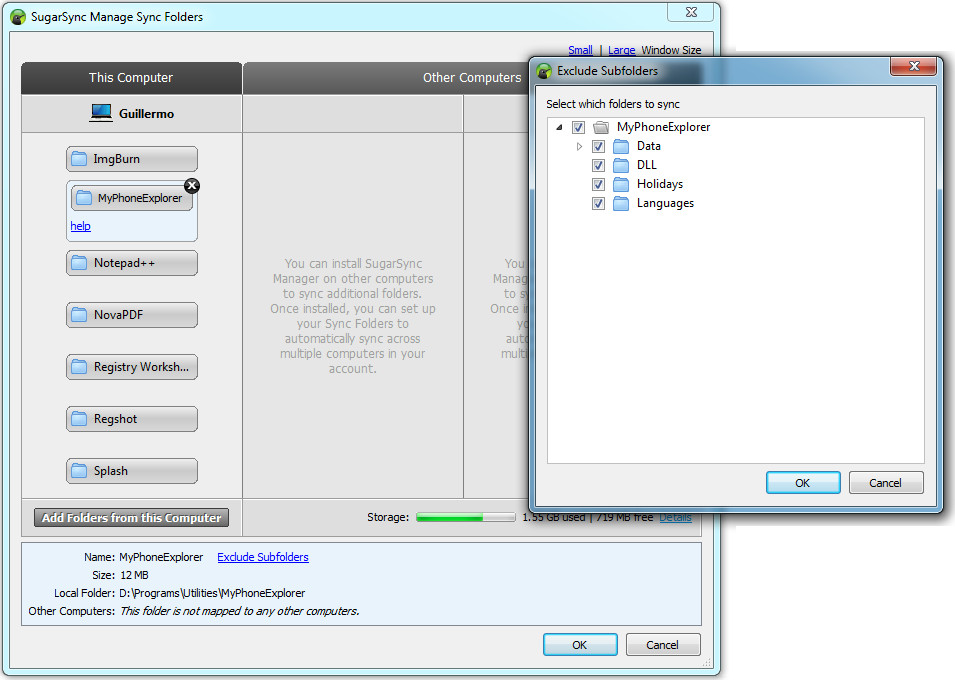 Resources
While uploading for the first time I was quite shocked by SugarSync's resource usage: on average over 280MB of memory was used and my C2D 2.4GHz was used for 30-50% by the Manager process. Luckily this was only due to the initial indexing of all files in the selected folders. CPU usage on upload dropped to less than 2%, memory usage however stayed the same. Upon a restart, this dropped to 25MB, though, but it it did rise again over time (up to about 60MB during testing). Dropbox uses – primarily due to its Python framework – about 56MB of RAM on start-up/while indexing (on an x64 version of Windows 7), increasing slightly on syncing, but over time it can drop to about 27MB. Dropbox's CPU usage is somewhat more than SugarSync, that might be because of its differential file synchronization and compression method.
Versioning
Versioning is implemented nicely in both services, although significantly different. Quoting the Support page: "SugarSync automatically backs up the last 5 versions of a synced file. Only the current version of a file counts against your storage quota." This, however, is only the case for a paid plan. Free plans allow for 2 versions per file. Dropbox takes another approach, saving an infinite amount of versions for all your files, but only for 30 days. If you want to extend this indefinitely, you have to add the Pack-Rat extension to your paid plan. What's best of course entirely depends on your own behavior: if you save your files after every little change, SugarSync's version management might not be enough, whereas if you're saving sparingly and like to have an older version  around for longer than 30 days to fall back on, it might turn out to be better. In addition, you can put a particular version of a file inside SugarSync's Web Archive.
As with Dropbox, you'll get a nice overview of the latest changes (additions, removals and updates of files and folders), although Dropbox's grouping of events and full history logs is a significantly better implementation.
Extras
In addition to folder synchronization, SugarSync has quite a few interesting other features. For one it has a Web Archive: "A place to put copies of files that you do not want to automatically sync when you edit or delete the original version. You can use it to free up disk space on your computer by securely backing up your files remotely."
Furthermore, there's support for real-time streaming of music and videos to Android phones, you can create multiple photo galleries, you can directly view and share photos from your mobile, publish photos directly to Facebook and share several folders with customized privileges and then there's that magic briefcase thingy. From the web interface you can – as in Dropbox's – download multiple files in zip-files, send multiple files by email and access previous versions. In addition, SugarSync will send you an email message as soon as someone accessed the files you sent them, simply brilliant. With WebSync, a Java applet allows you to edit any file directly from the web interface on any computer and sync the updated file to the web and your other computers.
Dropbox allows you to run a simple website from within the /public folder, I couldn't find such a feature in SugarSync, although that doesn't mean the feature's not there.
The SymLink/Junctions story
As with Dropbox, changes of files and folders inside directory junctions or symbolic links are not recognized instantly by SugarSync's client. I suppose this is an issue linked to Microsoft's implementation of symlinks, but either way it makes it impossible to create your own virtual folder structure inside a sync-folder: files and folders will only be updated upon a restart of the client. For Dropbox, this meant that you should put anything in the Dropbox folder and then make symlinks on the locations you originally wanted the files to be. Not a good thing. At least with SugarSync you're allowed to choose multiple folders, but it won't allow you to subsequently create a virtual folder structure. For some extra customizability, though, SugarSync does allow you to exclude subfolders of a synced folder.
Conclusion
Use SugarSync. It's that simple. Dropbox lacks flexibility when it comes to folder specification (this might change in the future) and on top of that SugarSync comes with extensive mobile platform support, better sharing functionality and for more "professional" use a nicer pricing. The only BIG "but" here is that SugarSync still does not offer a Linux client.
Pros
Does everything that Dropbox does
Extensive support for all popular mobile platforms
Multiple folders sync (set up individually per computer)
Offers more attractive payed plans
Cons
No Linux client
Maximum of 2 computers to be linked to a free account
Only 2 previous versions of a file saved for free accounts (5 for paid plans)
Unpredictable memory use (can be important for those 1GB RAM netbooks)
Update: thanks to some comments below, I got some more information about the restrictions of the free plan. First, as already mentioned by caschy below, you can only backup & sync from max. 2 computers per account – with a paid plan the number of computers is unlimited.
Furthermore, I checked both versioning systems to some more detail. For that, see the 'Versioning' header.