How to edit Quick Actions in the Action Center on Windows 10
Quick Actions are tiles in the Action Center that allow you to toggle settings like Bluetooth, Focus Assist, Airplane Mode, and more. On Windows 10 1903, these toggles are much easier to customize. Older versions of the OS required that you go through the Settings app to change them but now, you can edit Quick Action in the Action Center. Here's how.
If you're on an older version of Windows 10, this is how you customize the Quick Action buttons.
Edit Quick Actions
Open the Action Center by clicking its button at the very right of the System Tray. Right-click any one of the toggles and select the 'Edit quick actions' button.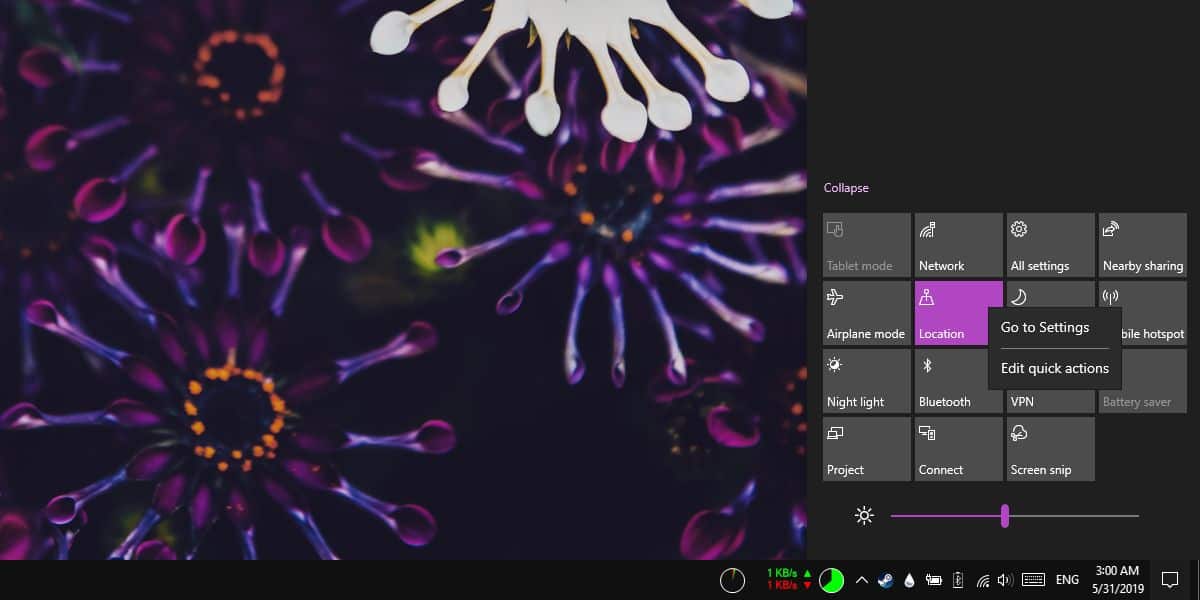 The toggles will enter edit mode. The toggles that are already added to the Action Center will have a pin icon at the top right. If you want to remove a toggle, click the pin icon to remove/unpin it.
To add a toggle, click the Add button and you will see a list of the Quick Actions that you can add. While the toggles are in edit mode, you can also change the order they appear in. Simply drag & drop the button where you want to position it.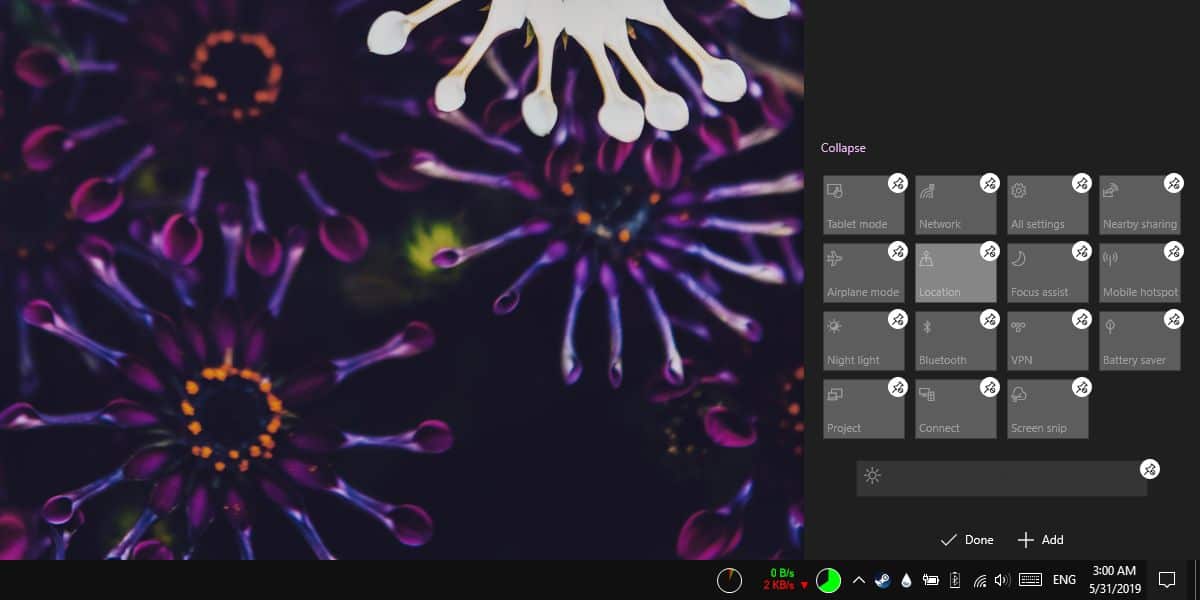 On Windows 10 1903, the Action Center also has a new Brightness slider at the bottom of all the Quick Actions. You can hide it by clicking the Pin button however, you cannot change its position. It can only be placed at the very bottom.
The old option in the Settings app for changing the Quick Actions now opens the Action Center with the Quick Actions in edit mode. Some Quick Actions have additional settings that go with them and if you right-click a button, you will still see an option to open the setting.
The original setting was a bit hard to find and this new method for editing the Quick Actions is far more intuitive. Users are more likely to right-click a toggle and expect more options to show up. It makes sense to add the edit option there. The Action Center still only shows four toggles in its collapsed state. You can expand it and it will stay that way so if you need more than four toggles, they're easy to access.
If you prefer to have as few Quick Actions as possible, it might help to know that many of the toggles, such as the Project and Connect toggles can be activated with a keyboard shortcut.