Enable Aero In Windows 7 Home Basic
Windows 7 Home Basic is available in selected regions only, Aero Transparency is however not available in this edition. But this doesn't mean that you cannot enable Aero in Windows 7 Home Basic.
Since Microsoft states that features for all editions of Windows 7 are stored on the machine(regardless of what edition is in use), it is not so surprising when a tool such as Aero Enabler comes out.
You can now enable Aero with a click of a button. Please note that you will need a minimum DirectX 9 acceleration, WDDM(Windows Display Driver Model)-compatibe driver, 128 MB of graphic memory, and Pixel Shader 2.0 with 32-bits per pixel support.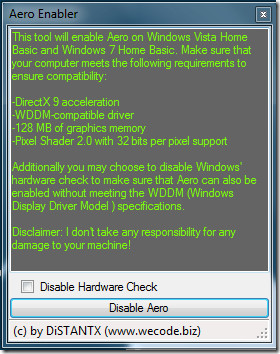 All it does is to tweak a few keys in the registry and Aero Transparency is enabled in Windows 7 Home Basic. You can also disable Hardware Check to make sure that Aero can be enabled without meeting the WDDM specifications.
It is developed exclusively for Windows 7 Home Basic and Windows Vista Home Basic. Do NOT try this tool in any other versions of OS.