Shrink Pic – Free Automatic Batch Image Resizer
At AddictiveTips, we have covered various image resizing software and all of them require manual input. Shrink Pic is a brilliant app that takes a totally different route and makes the whole procedure automated.
Before we go further, lets discuss the uses of such a tool. It is a headache to manually resize the image(s) and then send them as attachment, upload them, or share it over IM(Instant Messenger). Wouldn't it be great if the images are automatically resized instead of having to manually do it?
When you attach a photo, upload it, or send it over IM, Shrink Pic will automatically compress the image to the user-defined level, save a copy in the temporary directory and then use this image instead of the original photo. Thus, in this way a compressed image is send quickly while keeping the original photo intact. Sounds brilliant?
All the user has to do is to select the Compression Level and the Photo Types. Hit Ok and the app will silently monitor from the system tray. When it recognizes an image which is being uploaded, it will automatically resize that image and use it instead of the original one.
You can temporarily disable;e it by right-clicking the system tray and un-checking Enable. When an image is compressed(resized) a small notification is shown on the lower-right side of the desktop.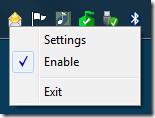 The best part is that you can install a portable version on any removable storage device. Go to File menu and select Copy to Flash Drive option(make sure a USB drive is connected to the computer).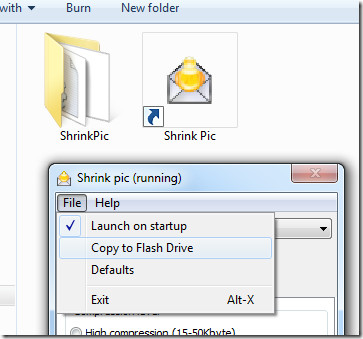 It works with IE, Firefox, Chrome, Safari, and Opera web browsers, Windows Live Mail, Outlook 2003/2007, Outlook Express, Thunderbird, Eudora, Poco Mail, and Incredimail email clients, and Skype, Yahoo, and Windows Live IMs.
While uploading an image to WordPress, it was able to resize(compress) the image to the exact settings as chosen by me. It works on Windows 2000, Windows XP, Windows Vista, Windows Server 2003/2008, and Windows 7.