Extend Windows Desktop Without Buying A Second Monitor
Do you want more space than what you are getting on the default monitor? GiMeSpace Desktop Extender does just that and saves the user from having to buy multiple monitors to fulfill their needs.
The free version of the app allows users to navigate horizontally, which means on moving the mouse to the right or left side of the monitor you get lots of extra space. In layman's term, your desktop is extended horizontally in both directions.
While it was originally developed for Windows XP, integration with Windows 7 is seamless. It does not in any way alter the Aero Snap feature of Windows 7.
The space can be extended to a larger extent and in case you are lost, launch the GiMeSpace Control Panel from the system tray and click to where your windows are located. This is a great way of navigating between different windows located in the extended desktop.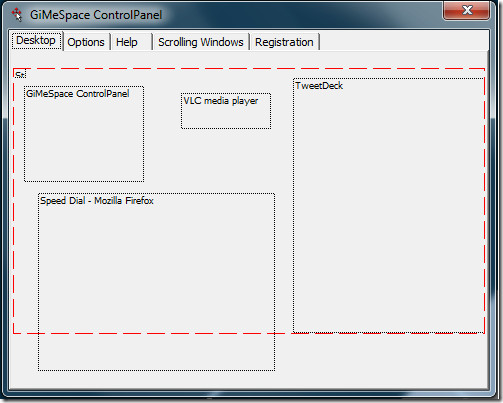 The best part is that your taskbar and the desktop icons remain in the original position while you move horizontally across the desktop. You can also choose to move vertically or in both directions, but this feature is available in paid version only along with a bunch of extra features.
Watch the low quality demo below which is recorded by the developer in Windows XP.
It works seamlessly with both 32-bit and 64-bit versions of Windows.
Download GiMeSpace Desktop Extender