How to fix Bluetooth headset mic not recognized by Windows 10
Bluetooth headsets come with and without mics built-in. Much like a wired headset with a mic, a Bluetooth headset's mic will work once the device is connected.
Bluetooth devices are all normally set up the same way and if a device has a mic, it will automatically register as an input device that you can use right away. In some cases though, when you have multiple devices, the Bluetooth headset's mic may not be recognized.
Bluetooth headset mic not recognized
If you've connected a Bluetooth headset with a mic to your Windows 10 PC but the mic isn't detected, you can try a few simple things to fix the problem.
Before you start: it's a good idea to unpair and pair the Bluetooth headsets at least once and see if the mic starts working.
1. Select audio device
A Bluetooth device may appear twice; once as a Bluetooth headset, and once as a Bluetooth speakers. You need to select the right device in order for the mic to work.
Connect your Bluetooth headsets to your Windows 10 system.
Click the speaker icon in the system tray.
Click the dropdown arrow to view the list of devices.
Select the device that is either a hands-free device or similar.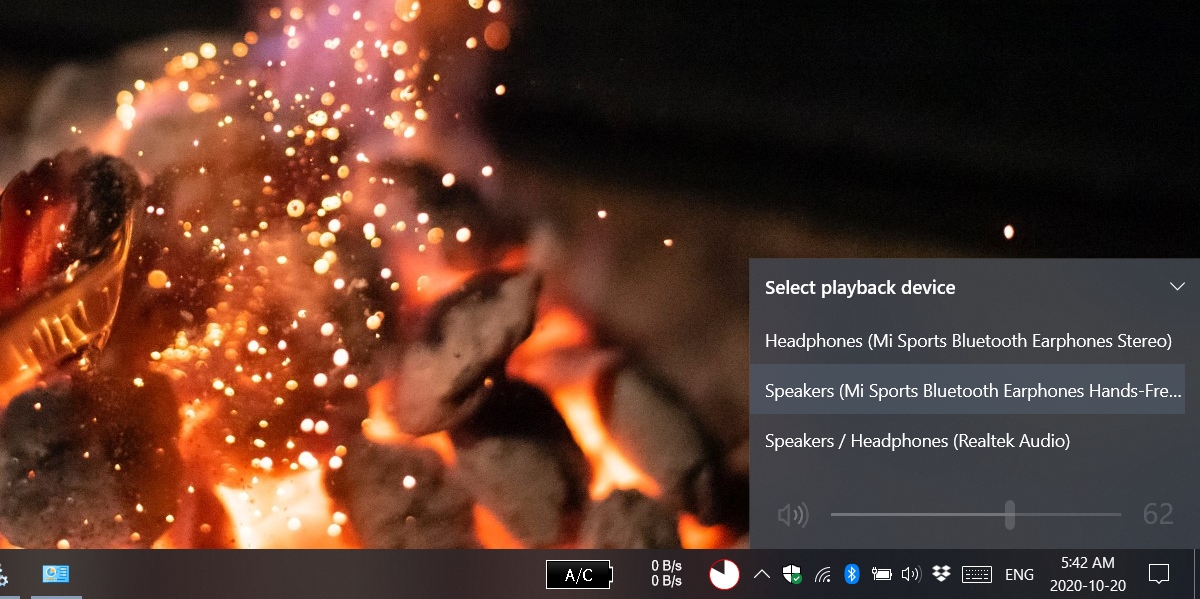 2. Enable Bluetooth device services
The Bluetooth headset's mic may not be turned on. This is a setting that has to be enabled on Windows 10 and doesn't have anything to do with the Bluetooth device itself.
Connect the Bluetooth headset to your Windows 10.
Open the Control Panel.
Go to Hardware and sound>Devices and printers.
Right-click the Bluetooth device and select Properties from the context menu.
Go to the Services tab.
Enable all services.
Click OK and the mic will start working.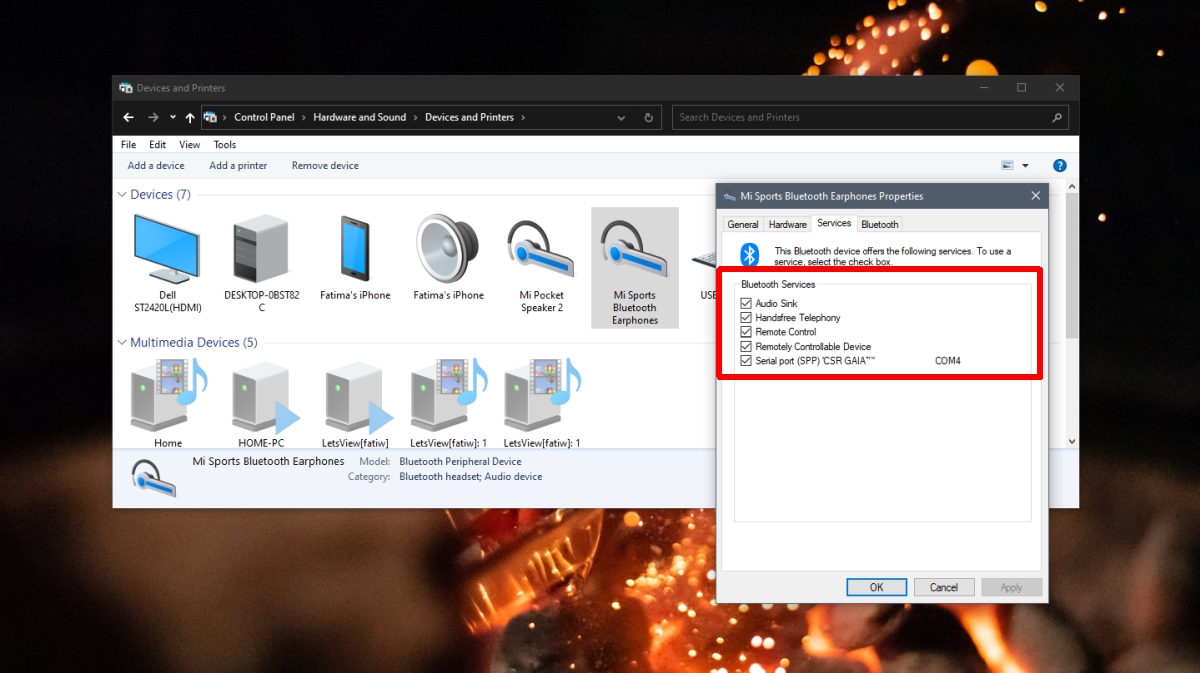 3. Set Bluetooth services to Automatic
In order for it to work, Bluetooth requires a few services to run on your system. These services run if Bluetooth is on but the service may need to be set to run automatically.
Tap the Win+R keyboard shortcut to open the run box.
In the run box, enter services.msc.
Look through the list of services and find all Bluetooth services.
Double-click each service, one-by-one.
Select Automatic from the Startup type dropdown.
Click OK.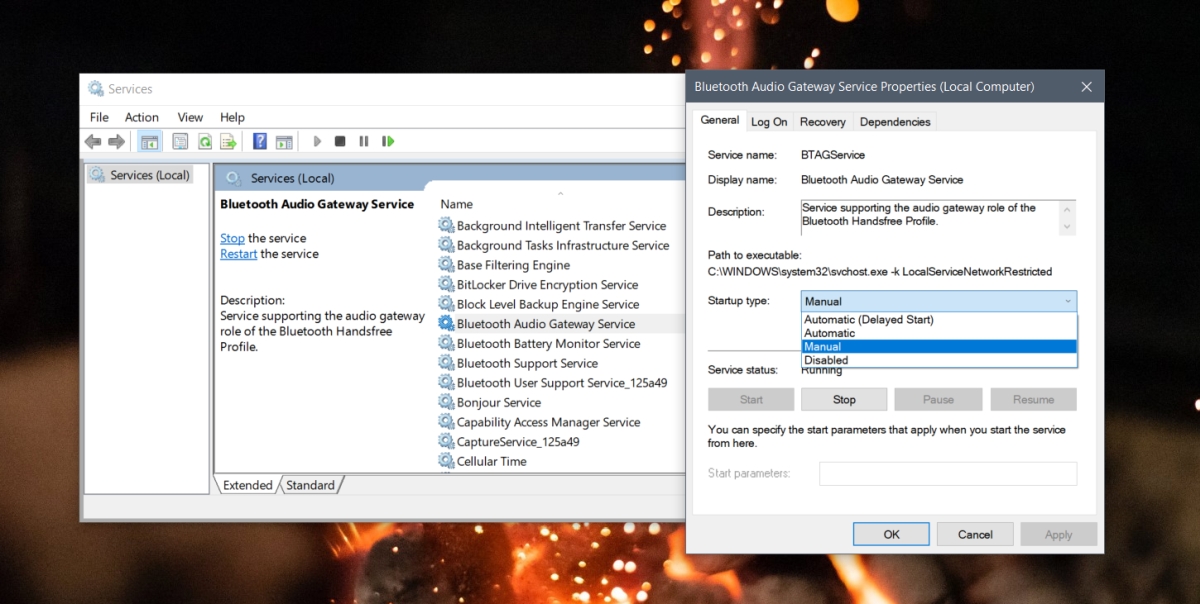 4. Set as communication device
The Bluetooth set may not be set as a communication device. The mic itself may be working fine but apps on your system likely aren't using it.
Connect the Bluetooth headset to your Windows 10 system.
Right-click the speaker icon in they system tray.
Select Sounds.
Go to Recording tab.
Right-click the Bluetooth headset and select 'Set as default communication device'.
Click Apply and the mic will start working.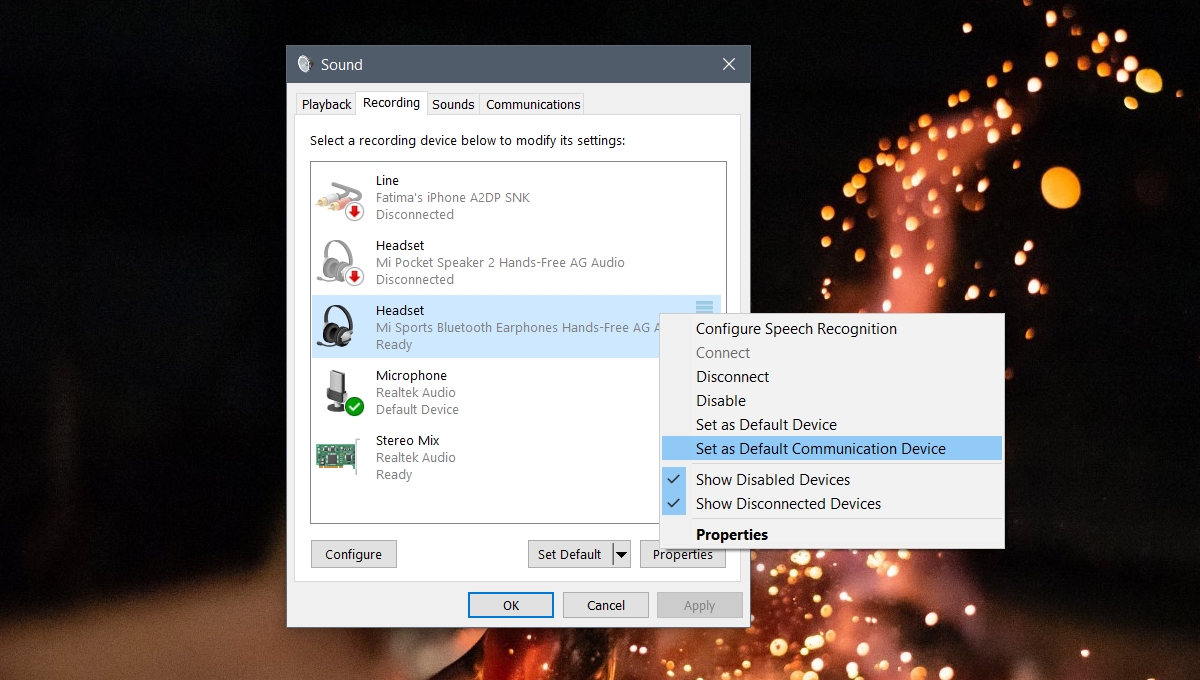 Conclusion
Bluetooth headsets don't always work the same once connected. Sometimes it's because the device itself is generic and other times, Windows 10 doesn't respond to it the way it should. If the mic doesn't work, the above solutions will fix it.