How to fix Bluetooth missing after upgrade on Windows 10
Bluetooth technology, like every other type of technology, tends to evolve over time. It gets better with both hardware and software improvements and that means that eventually, the hardware will become obsolete. The technology doesn't update often but that doesn't mean it will never update and often it happens without you ever knowing. If you find Bluetooth missing after an upgrade on Windows 10, it is very likely because of the update. Here's how you can fix it.
Limitations
This will only get Bluetooth working on Windows 10 again. It will not force it to be compatible with services that require the latest driver or a modern chipset to work. Bluetooth will work with whatever is still compatible with it though and this may very well include most of your peripherals and Bluetooth audio devices.
This fix is only for if you've recently installed a Windows update, regardless if it's one of the monthly updates or a major feature update. The monthly update, on occasion, will install new drives which is often the cause of the problem.
Fix Bluetooth missing after upgrade
First, check if you've installed a recent Windows update. Open the Settings app and go to the Update & Security group of settings. Select Windows Update and check your update history. If you've recently installed an update, try the fixes below.
Roll back driver
Open the Device Manager and look for the Bluetooth group of devices. Expand it and select your Bluetooth chip. Right-click it and select Properties from the context menu. On the Properties window, go to the Driver tab. Click the Roll back driver button and return to the older driver for your device. You may have to restart your system for the change to take effect.
Manually install Bluetooth driver
If the Roll back driver option isn't available, you're going to have to manually install an older Bluetooth driver. The question is which driver to install and where to get it from.
The best place to get an older version of your Bluetooth driver is to go to your chip manufacturer's website. You can find the manufacturer name from the Device Manager (the previous screenshot shows that mine was made by Intel). Alternatively, you can check your laptop/PC manufacturer's website where you will find older versions of drivers for various components on your system.
Download an older driver; it should be either the last one that you know worked or the very earliest version that's available. Uninstall the current driver from Device Manager and then install the one you downloaded by choosing to manually select the driver that's installed.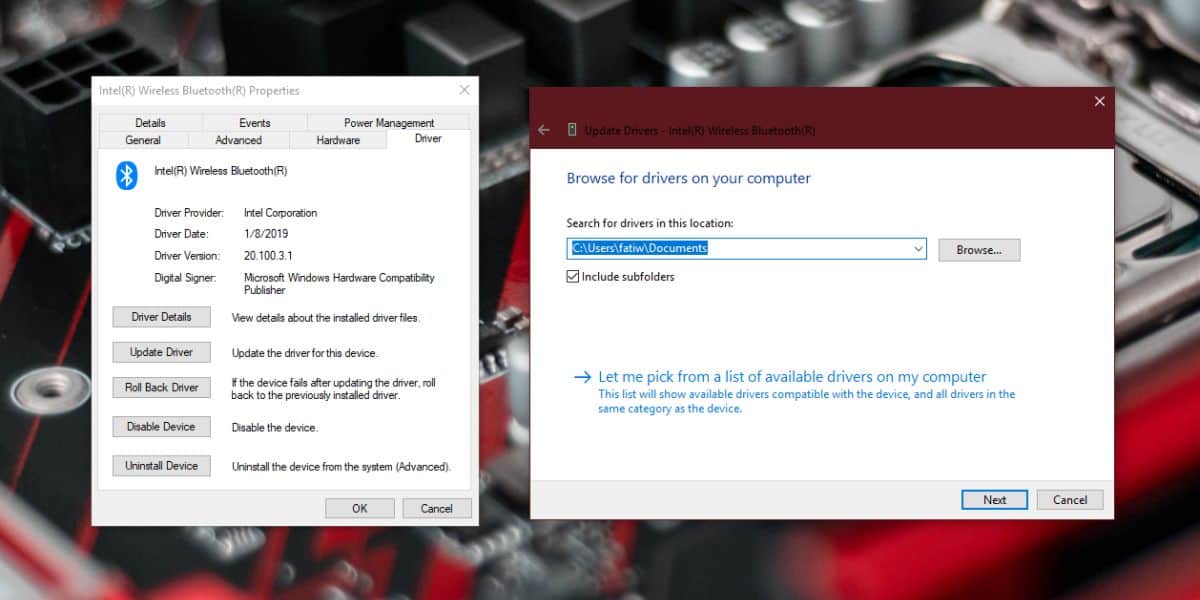 Turn on Bluetooth
Once everything is done, you will have to enable Bluetooth from inside Windows 10. You can do this from the Action Center toggle or, from the Devices group of settings in the Settings app under the Bluetooth tab.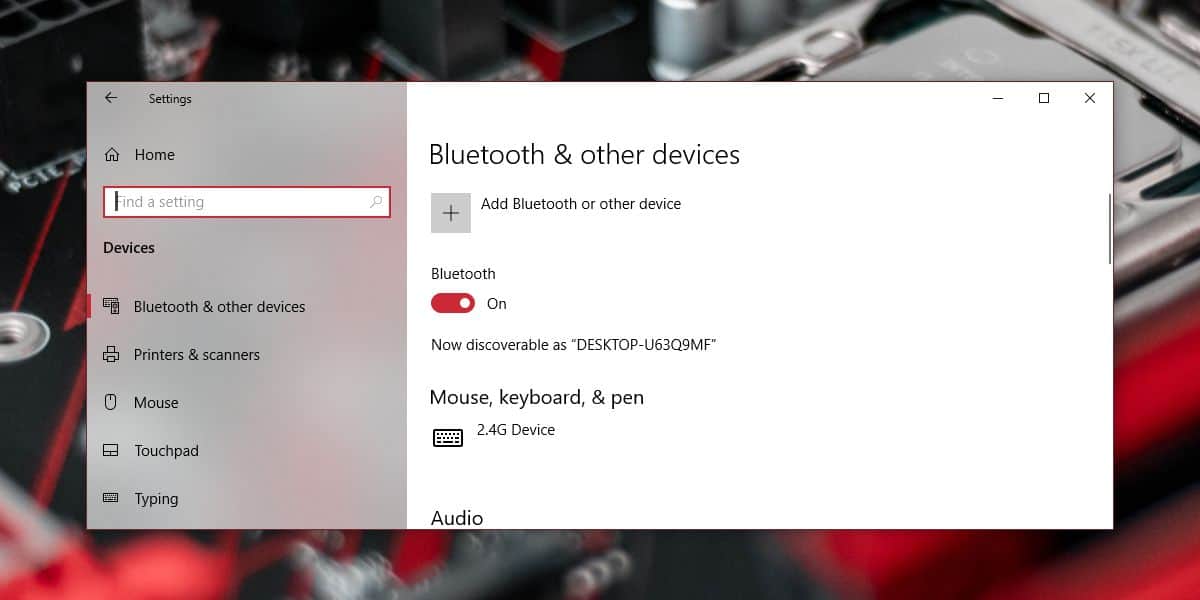 BIOS Updates
On some systems, Bluetooth can be turned off from the BIOS. If you've recently updated your BIOS firmware, it's possible that the update turned it off. Check your BIOS and see if Bluetooth has been turned off. If it has, turn it back on.
If you're unable to turn it back on, you might have to downgrade back to the older version of your BIOS firmware.