Add Bluetooth Devices In Windows 8 Without Installing 3rd Party Software Or Drivers
Among other things that might need exploring in Windows 8, there are the Bluetooth settings. Gone are the days when you needed to install 3rd party Bluetooth drivers or software to connect your Bluetooth device with your PC. Windows 8, by default, includes built-in Bluetooth software, but unlike Windows 7, it allows you to manage all devices easily from PC Settings. This is a simple step-by-step guide to adding and managing your Bluetooth devices and sending files from your system via a Bluetooth connection. We touched briefly on this topic in our comprehensive post on Windows 8 PC Settings, but here is the complete drill down for you.
If your Bluetooth is switched on, and you are on the Desktop view in Windows 8, you will likely see the Bluetooth icon in the system tray. You can right-click the icon and select Add Bluetooth Device to add new files.
Alternatively, you can use the Charms bar (move your mouse pointer to the top or bottom right corner of the screen and hover until the bar appears, or hit Win+C hotkey). Click Settings (the very last button on the bar) and select More PC settings.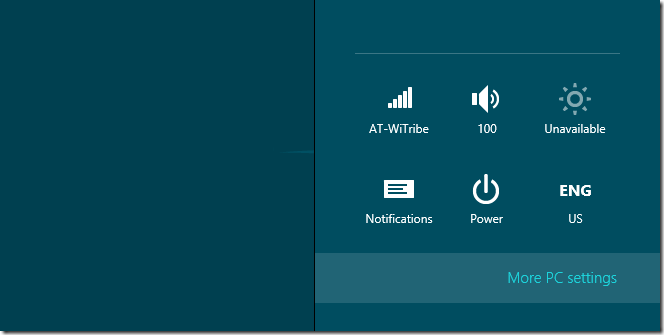 Regardless of whether you're on the Desktop view or the Metro view, the settings will open in Metro. You will see a list of all items that you can manage on the left. Select Devices and all connected or recently added devices will be listed on the right. While you may not have added them yourself, some devices such a Bluetooth mouse or keyboard might already have been added and will appear in this list.  Click Add New Device at the top of the list and Windows will search for all available Bluetooth devices in the vicinity.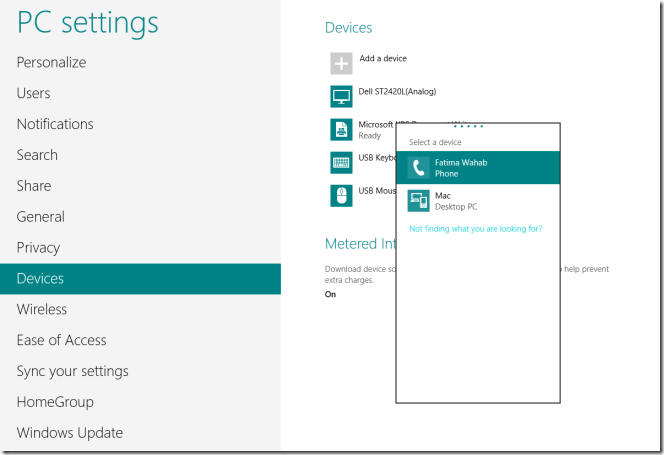 Double click the device you want to connect to and wait while a connection is established. You will be presented with a passcode that you must either verify as being the same on the other device (most likely if you are connecting to another computer), or enter the code on the device you are connecting to (most likely in case you are connecting to a phone).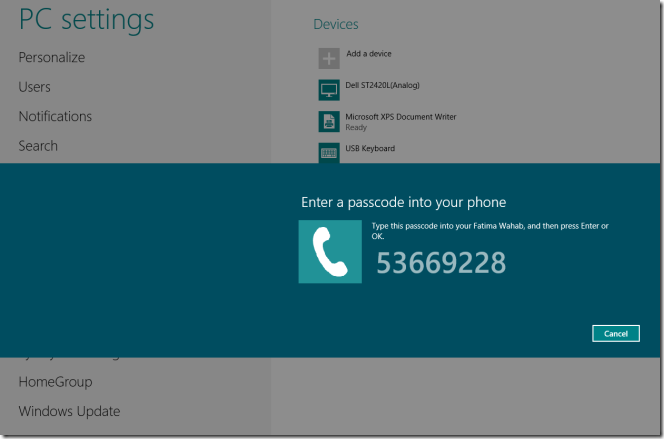 Once the code has been entered or verified, your device will appear in the list of added devices and the connection will be active between the two. So long as a device is in this list, your system will connect to it whenever it is in Bluetooth range. You will no longer be prompted to enter codes or allow a connection to be established.
To remove a device, simply select it from the list and click the little minus button that appears on the top right of the device name and click Yes in the notification that pops up.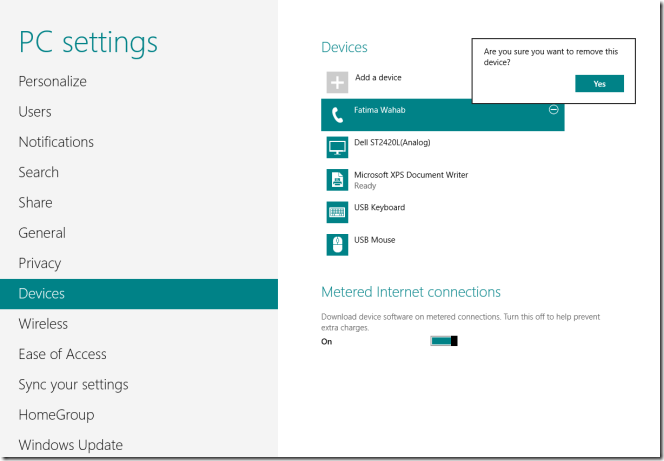 If you've connected a mouse, headset or a keyboard, you're all done here. If you've connected a phone, you can now send files to it. To send files, right-click the Bluetooth icon in the system tray and select Send a File. Select which device you want to send a file to from the window that opens. Only devices that you can exchange files with will be listed in the window. Select a device and click Next.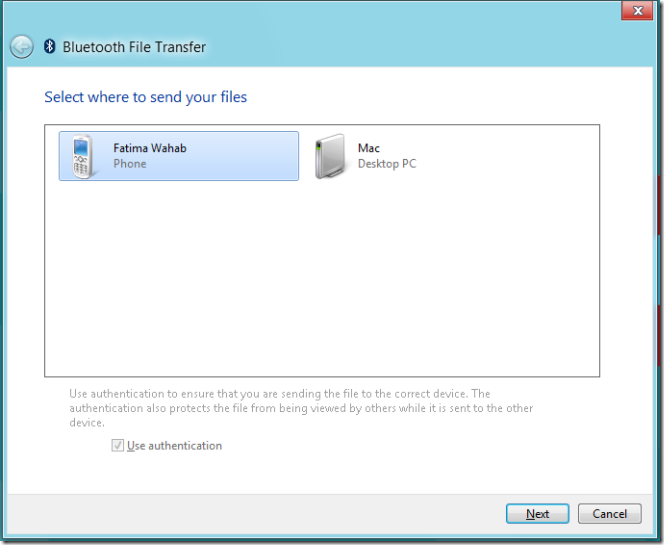 Browse and select the file(s) you want to send and click Next and wait for transfer to complete. Transfer progress will be shown on a progress bar, as seen below.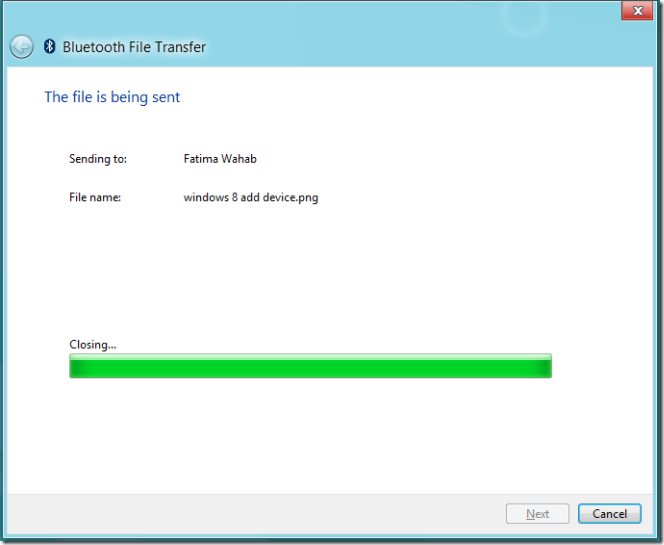 That's all there is to Bluetooth on Windows 8. You can now easily set up phones, keyboards, headset, mouse, track pads and more. Enjoy!