Foxmail – A Full-Featured Email Client & RSS Reader
Granted, more and more people resort to online services for their email and even everyday office work (Zoho Mail/Docs, Gmail/Google Docs), even entire virtual desktops turn up on the net, giving a quite comprehensive set of tools to substitute your local applications with (think of WebOS's like My SkyTop, EyeOS or G.ho.st). But as of yet, nothing weighs up to the speed, responsiveness and versatility of a locally run application. Even so for managing your email.
Over the years, I've worn out many email clients like Outlook Express, The Bat! and Eudora, with some escapades to Thunderbird, DreamMail and Opera Mail, and some extensive testing of Pegasus Mail, Sylpheed/Claws, KooMail, Postbox and eM Client. But ultimately I've always returned to the client I have used for over 8 years now: the free and blazingly fast Foxmail.
Installation
This might look a little daunting, but don't let it scare you off: indeed, the installation will be in Chinese. All you have to do, though, is click the buttons highlighted by default and untick the first two check boxes at the last page of the setup process. The first two would open up a readme file and Foxmail itself, the last check sets Foxmail as the default mail client. After this, just delete the file in the installation folder called Chinese.lgb to turn the program into an English-speaking jewel and you're good to go.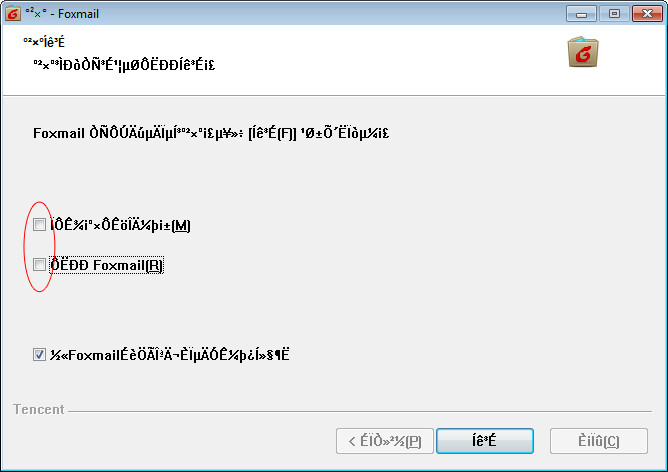 Home-brew portable English version
Foxmail pretty much comes portable as-is, too bad it uses the registry for its settings [HKEY_CURRENT_USER\Software\Aerofox\Foxmail]. By default, your email data folder will be inside the program's folder (mail\accountname). Just for the occasion, I created a loader making Foxmail completely portable and translated all the templates. Download the portable English version here.
First glance
After you've set up your (primary) email account, you might be feeling like you're walking into a baby room. A soft blue interface is presented, not the best color scheme to radiate seriousness or professionalism, I'd say (do I hear IncrediMail?). But that can be changed into a quite nice and easy-on-the-eye color very easily. In fact, you're encouraged to do so, as the option is always directly available from the title bar, next to the buttons for 'Minimize/Maximize/Close'.
Full-featured
If you are already familiar with any Chinese email client, you'll know that IMAP support is either a very recently added feature, or it's still not there. Foxmail fortunately belongs to the former category and it did integrate it exactly as expected. Folder remapping is available, you can choose whether to download the mails in its entirety or whether a listing of the headers suffices.
The latter would disallow you to enjoy one of Foxmail's 6.x new features though: a contact information sidebar which harvests sections with message snippets of the entire conversation or related conversations, an attachment listing and sections for related people and mails, all dependent on the currently selected message. Furthermore, a preview of the contact details as entered into the synchronizable address book is present there. A second tab on the sidebar embodies a handy to-do list. You can also set alarms for email messages and pin important messages to the top of the list, to me the most handy addition I didn't think of. If you're short on disk space, however, this meta-data indexing might not be such a nice feature; it's extremely demanding.
You can easily set up your own HTML/plain text templates for new mails, replies or forwards. The set of templates already provided in the setup is Chinese, but with our English portable version that is easily overcome.
Security
A quick switch between plain text and HTML view for your emails gives a decent extra security measure against email with malware embedded. Even more so, you have the ability to check the list of new messages on the remote POP server and choose which ones to fetch or to delete them straight from the server.
Speaking of security, Foxmail has support for public/private key encryption methods embedded. You can sign your emails with your private key so one knows the message actually comes from you and encrypt them with the recipient's public key to ensure confidentiality.
Filters
Foxmail has always had quite a good filter system. This version brings along 'Virtual Folders', which are simply dynamic (constantly updated) filters presented as folders, in which you can find whatever you set the filter to, for instance all messages to and from a specific contact with attachments larger than 2MB.
Furthermore, a comprehensive multi-level spam filter is integrated, based on heuristics, the Bayesian algorithm (which will need training) and a whitelist/blacklist system.
International potential thwarted
I have yet to find another free out-of-the-box feature rich and yet blazingly fast email client to compete with Foxmail. Overall it's an amazing package and even though the online help is merely in Chinese, if you know how to handle an email client, you know how to handle this one for sure. Still, the apparent limiting of its focus on the Chinese market surely is what the chance of success for Foxmail elsewhere pivots upon. Online translators do a wonderful job these days, but they cannot give you support for a program or grant you the opportunity to pass on feature requests and report bugs. And it doesn't seem like Foxmail is being given a bright future in this. The question you have to ask yourself, though, is whether the lack of a (direct) help-file or interactive support should restrain you from using a full-featured and logically built piece of software that has matured over many years.
Pros:
Finally IMAP support
Clean 'n calm interface (once you give it a color change)
Speed
Reliability
New indexing methods like conversations, attachments manager
Mail Express option (send directly to recipient's mail server)
On-the-fly message filter
Matured and full-featured
Customizable layout
Encryption features embedded
Template manager
RSS reader
Cons:
Chinese market oriented
Some interface glitches
Limited support for English-speaking users
Download Portable English Foxmail
Download Foxmail Chinese Setup
Willem Nuijen is the latest geek to join the AddictiveTips HQ. He will be bringing detailed reviews of various lesser-known applications and tips. All opinions presented here are that of the author and does not reflect the opinions of AddictiveTips as a whole.