TreeSizeNet – Tree View Of File & Directory Size
I have to say this is one of the best tools out there to browse the directory in tree view format. The tool in question is TreeSizeNet. A dead-simple portable app that shows the file and directory size as you browse.
Just run the app, hit Choose Folder, and select the directory which you would like to analyze. It will display all files and sub-directories inside, click a sub-directory and it will expand.
The file size is updated in real-time so at the beginning it will be show a smaller size and will gradually increase with time. You can always stop it by clicking Stop Updating.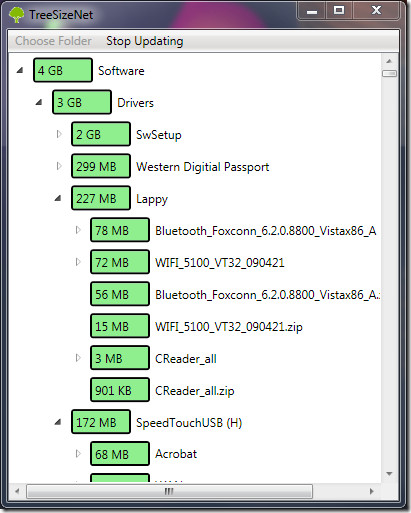 It is still in beta but works seamlessly without any problems. The only additional feature I would love to see is the number of files displayed in brackets and updated in real-time.
It works on Windows XP, Windows Vista, and Windows 7. It is simple, lightweight, and gets work done. A perfect tool for those who love simplicity. If you are looking for a more advanced tool, SpaceSniffer is your friend. Enjoy!