Freemake Music Box: Listen To Online Music & Watch YouTube Videos
Freemake Music Box is a music player that lets you search for free online music, and listen to millions of songs. It allows you to find, listen to and organize your favorite music, and automatically plays videos from YouTube. You can search the music by artist name, album name or the exact song name, depending on your choice. The application enables you to create and save playlists, change the order of songs in playlists, and keeps the playlists intact for listening to your favorite songs at a later time. Freemake Music Box makes sure that the music that you're listening to is available legally on the internet, and provides you with all the basic options of a music player.
The interface of the application has the playlist at the left side, the search function is available in the right pane while the video is played in the lower-left corner of the application. To search for a song, artist or album, simply type your query in the search field and hit Enter. The songs can be either added to the playlist by hitting the Add (+) button, or played directly from the Play button. The application will automatically search for the video of each song on YouTube, and play the video, if available.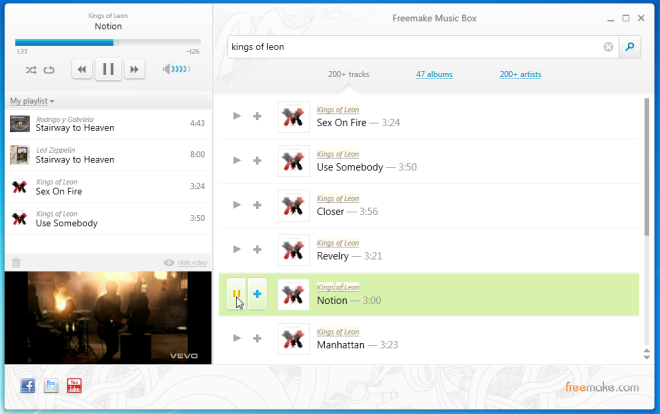 Freemake Music Box works on Windows XP, Windows Vista and Windows 7.