GIF Resizer – Resize Animated GIF Image Files
Tools like IrfanView, Gimp, etc are great for editing and resizing the images, but they lack one important feature: ability to resize animated gif images. Some image editors do support the resizing of static gif image files, but they cannot resize animated gif images.
GIF Resizer is a free portable tool for Windows OS that lets you resize animated GIF images instantly without any loss in quality. Just run the tool and select the GIF animated image file that you want to resize. It will automatically detect the size and frames, now enter the new destination where you would like to save the file. Enter the new Width and Height and click Resize, make sure you have checked the 'Good Quality' checkbox.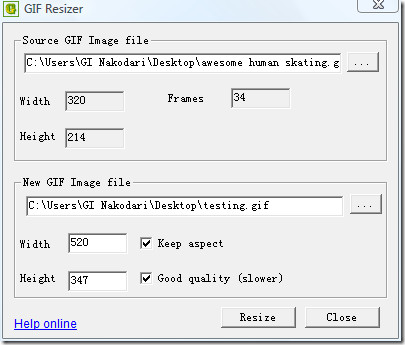 The original GIF animated image is here(320×214) and the resized animated GIF image is here(520×347), you can compare the quality yourself. There is no limit on resizing, you can resize to whatever size you wish.  Obviously increasing the size will also increase the file size of the image and vice versa. Enjoy!