Hide Windows 7 System Tray Icons
Hide Systray (also called, Windows 7 System Tray Hider) is a small portable tool to hide the system tray icons. When clicked on the slider switch, it will restart the explorer and you will find the system tray icon vanished. The system clock however remains intact and so does the Show Desktop button next to it.
I have no clue why one would want to hide the system tray icons but if you ever need to hide them, this tool will do the job. With one click it will hide and restore the system tray icons but requires system restart or log off, and if you are an expert then you can kill the explorer and start it back again to view the changes.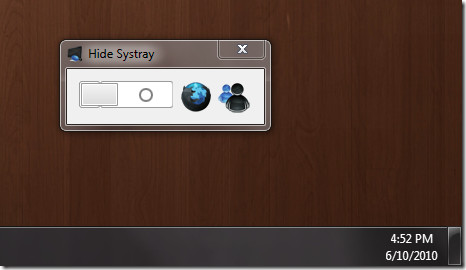 This tool has been developed for Windows 7 only, with the latest version making it .NET Framework independent. Also keep in mind that you will have to run it as Administrator.
Download Windows 7 System Tray Hider