How To Batch Extract Password Protected RAR Archive Files
Do you have tons of RAR(part of WinRar) archives in your directory and most of them are password protected? If yes, then the common method would be to right-click them and select Extract Each Archive To Separate folder from the context menu. This method will take time since you have to type the password of each and every archive separately, and what if you do not remember the password for most of the archives?
Unrar Extract And Recover is a portable opensource tool for Windows that can batch extract password protected Rar archives using dictionary attack method. Give it a wordlist and it will attempt all words against the archive, and then proceed ahead to extract them. Suppose a situation where you have around five or six password protected Rar archive files, now you can't remember which password is for which file, then such a utility will certainly come handy.
Just go to Bin folder and run the executable file, it will open a command prompt and after some time you will see a window from where you can select the folder that contains the password protected Rar archive files.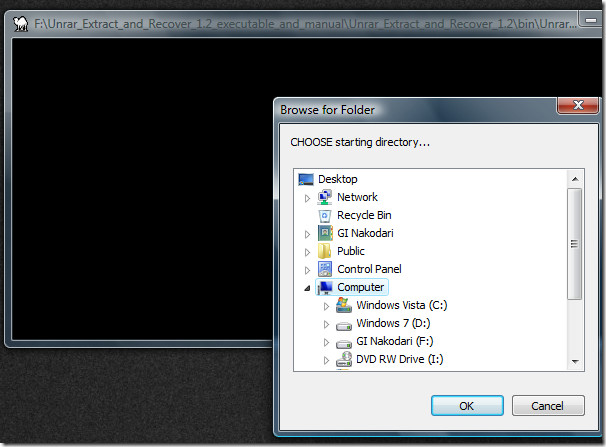 It will extract the content in the same destination by making a new folder, just like Winrar does it. Make sure to watch the video that comes with this file, it can be found inside the Manual and Readme folder.
Download Unrar Extract And Recover
It is certainly not a new tool, but the latest version adds unrar.dll into the distribution so users don't have to manually download and install it. The manuals are also updated in the new version. It works on Windows 2000, XP, Vista, and 7. Enjoy!