JumpList Launcher – How To Create Custom Jump List In Windows 7 & Windows 8
The jump list feature in Windows 7 and Windows 8 superbar increases the productivity a lot, but what if you want to make your own custom jumplist full of favorite programs or simply want to merge all programs into one icon? In such a situation you are screwed, according to the developer of Jumplist Launcher.
Jumplist Launcher is a free portable tool for Windows that allows you to add your favorite programs in a single jumplist so that they can become easily accessible. You can add up to 60 jumplist-items and they can be categorized into self-defined groups easily. Here is how it works, extract the zip archive, run the program(no installation required) and start adding groups, files, and folders.
This post has been updated to let you know that 7Stacks also supports Windows 8. The article was updated on April 3, 2012.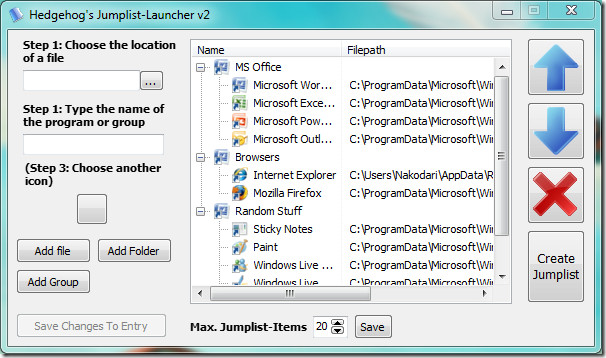 Before you add the files and folders to the list, make sure you have increased the number of Max Jumplist-Items and clicked Save.
Note: The setting Max. Jumplist-Items changes the number of possible entries globally for the whole Windows-environment
You can add the files and folders using two methods. The first method requires you to chose the location of the file manually, type the name of the program or group, choose the icon, and then click Add file. The second method is a simple drag & drop and is far more easier.
Note: The first method turned out to be quite buggy for me, the second method worked best.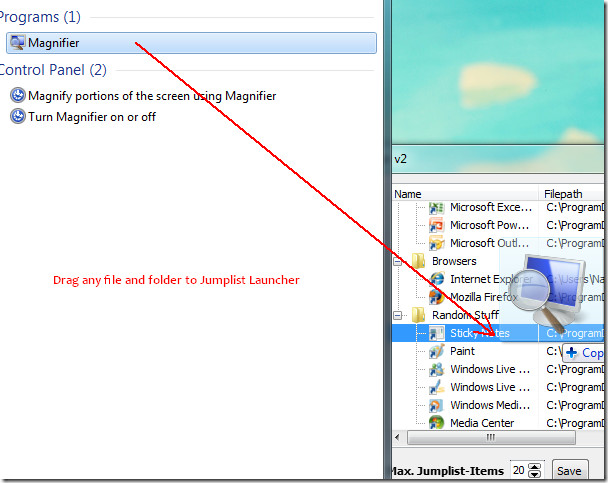 If you're using Windows 8, just open the source location where the application's executable is residing, and then drag the the application EXE file over the main interface. When you are done adding all your favorite programs, click Create Jumplist. Now right-click Jumplist launcher from the superbar and click 'Pin This Program To Taskbar'.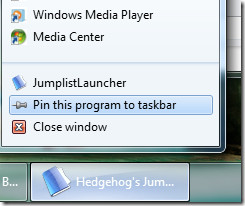 You can now go ahead and close the Jumplist Launcher program. Now right-click the Pinned Jumplist Launcher from the superbar and you will find all your favorite apps in the jump list.
Watch the video below to get a better idea of how it works.
Set of features include:
No installation and rubbish in the registry
Creates jumplists with up to 60 programs or files which can then be directly started
The jumplist entries can be grouped
After creating the jumplist, no program needs to run in the background
You can have multiple Jumplist-Launcher-Icons (with different files/programs) on your superbar by copying the folder
Files can be dragged into the Jumplist-Launcher from Windows-Explorer
Icon and name of the entry can be customized
Enjoy!