How To Burn Blu-Ray, DVD, Or CD Disks For Free With BurnAware
Are you looking for a free but easy to use software for burning your DVD, CD, or Blue-Ray disks? BurnAware, if you haven't heard about it before, is a cool little burning software that is idle for basic disk burning needs such as backup, creating data, audio, MP3 music, DVD-Video discs and burning disc images.
The software is so easy to use that it seems that it was developed keeping in mind the novice computer users. You just have to select the type of disk you are burning from the left sidebar, it supports Compact Disk, DVD, and Blu-Ray.  Select any one of them and choose the type of disk you want to create.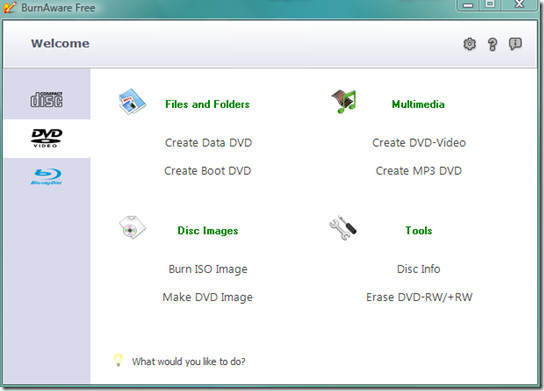 Now since I want to create a Data DVD, I have selected Create Data DVD given under Files and Folders. Now it will show a new window(see screenshot below) where you can add files, create new folders, change disk name, choose the type of DVD disk and much more.
After you are done adding all the files and folders, click the Red button on the top-right side to start burning a disk instantly.
You will get used to this software after using it yourself for a few minutes, in the end you will have to agree with me that it is the most easy to use software out there. The only drawback is that it doesn't support creating a bootable ISO image file, making exact copies of DVDs and CDs, and write to multiple drives simultaneously. These features are mainly for advance users and are not needed if you want to burn normal disks. Enjoy!