How To Convert Your Printer And Scanner Into A Simple Photocopier
Do you have a printer and a scanner attached you your computer? You can convert them into a photocopier instantly with an opensource software iCopy.  These days scanner and printer are coming in one device making photocopying a piece of cake, but if you have both devices separately then you can use this tool to convert them into a photocopier machine with a single click.
Since I don't have a scanner connected to my computer I cannot test this tool. But it has helped many people who are having problem converting their printer and scanner into a photocopying machine.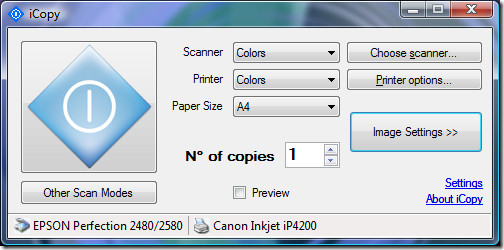 All you have to do is to choose the Scanner and then set the printer options. You can change the Scan modes and Image settings among various other easy to use features. Click the huge blue scanner button to start the photocopying process. If you are installing it on Windows XP, keep in mind that it requires .NET framework 2.0 or higher to run.
It has the following features:
Brightness and contrast settings
Scanner quality setting
Scan to file function
Scan Multiple Pages before printing
Preview function
Scaling by percentage function
No installation needed
Compatible with all WIA scanners and all printers
Command line parameters
Try it out and let me know how it's working for you. Enjoy!