How To Clear Google Earth Cache
Depending on your usage and preferences, Google Earth cache can take more than a gigabyte of your disk space. Below we have covered two methods in which you can remove Google Earth cache quickly.
Using Google Earth
What is better way than to remove the cache than use Google Earth itself? Just head over to Tools > Options and hit the Cache tab. Here you can clear both memory cache and disk cache taken up by Google Earth.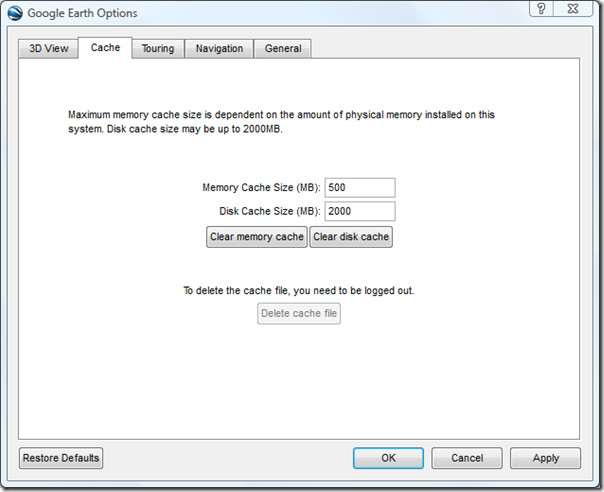 But opening up Google Earth just to remove the cache can sometimes take too long. If you can't wait for the long loading time and want to quickly remove the cache without wasting any further ado, then use Open Disk Cleanup Tools.
Using Open Disk CleanUp Tools
Open Disk CleanUp Tools is a combination of 4 tools – Google Earth Cache Cleaner, Firefox Cache Cleaner, Visual Studio Intermediate Cleaner, and MinGW Intermediate Cleaner.
It has no UI(User Interface) and actually adds all four options to the Windows Disk Cleanup utility. Once installed, an option to cleanup Google Earth cache can be found in the Disk Cleanup dialog box.
It's that simple. Enjoy!