How To Download Movies In 1080p From iTunes In Windows
iTunes has HD movies that you can rent or buy. HD movies are available in two resolutions; 720p and 1080p. By default, when you download movie from the iTunes store, it downloads the 720p version even when there is a 1080p version available. It doesn't prompt you to select the resolution you want to download the movie in. Instead, it assumes you want the movie HD but in the lowest resolution available for HD. To download movies in 1080p from iTunes, you need to tweak its preferences a bit. Here's what you need to do.
Open iTunes and sign into your Apple account. If you have more than one Apple ID, sign in to the one you use to buy movies.
Next, go to Edit>Preferences and select the 'Downloads' tab. Here you will see an option 'Download full-size HD videos'. Check it and click Ok. When you download HD movies, they will now be downloaded in 1080p resolution whenever available.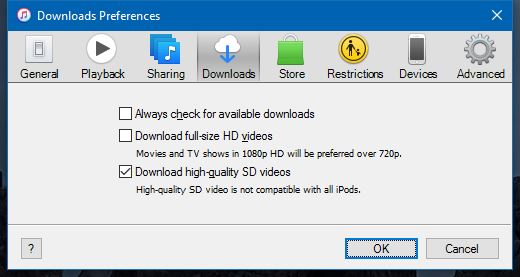 It is highly likely this option is set on a per-account basis. This setting is inactive/greyed out if you try to access it when you aren't signed into iTunes. This same trick should work fro when you want to download movies in 1080p from iTunes on your Mac as well but it may not apply to your iOS device.
It goes without saying that the movie you are attempting to download must be available in 1080p for this option to actually have a real effect. When iTunes says it has a movie in HD quality, that HD quality can also be 720p. It indicates when a higher resolution is available so check before you start downloading.
This extra setting for downloading movies in 1080p is likely meant to save space. As far as usability goes, iTunes should prompt users to select the download resolution or point them to the preferences where they can change this setting.