How To Enable Hidden Explorer UI Animations In Windows 7 & Windows 8 [Tip]
Sometimes developers keep hidden features on their software, some, due to unfinished codes are left within or others, for reasons unknown. Windows 7 and Windows 8 are also no exception, and their integrated Explorer have some hidden animations that cannot be enabled via Control Panel or Registry Editor. Why Microsoft has chosen not to include them in Windows settings is still a mystery, but as curious as people are, things like these cannot stay hidden for a long time, as people are always up to find new things in the OS, no matter what's it related to. Earlier, there was a method for enabling the hidden animations in Windows Explorer that required you to replace the Explorer Frame file, namely ExplorerFrame.dll, with a customized library file, but most users find replacing system files quite a tedious process, as it includes changing the ownership of the files (and some just don't understand the technical jargon, anyway) Today, we have found a miniscule application called AniExplorer, which makes the job easier for you in enabling the hidden animations in Windows 7 and Windows 8 Explorer without having to manually remove or replace system files. Pertaining details after the jump.
The download package of AniExplorer contains executable files for both 32-bit and 64-bit versions of Windows. The tool offers a total of 4 different animation effects namely Vertical Rectangle, Horizontal Rectangle, Position and Alpha. There is also an adjustable slider beside Alpha. Selecting each animation type displays the files and folder in a different way every time you open a folder in Windows Explorer. The Animation Speed allows you to choose the display speed of the selected animation using a slider. There are four speed settings; Very Slow, Slow, Fast and Very Fast. After selecting the required Animation Type and Animation Speed, click Apply to enable the animation. To restore back to the original Windows settings, choose Restore Defaults.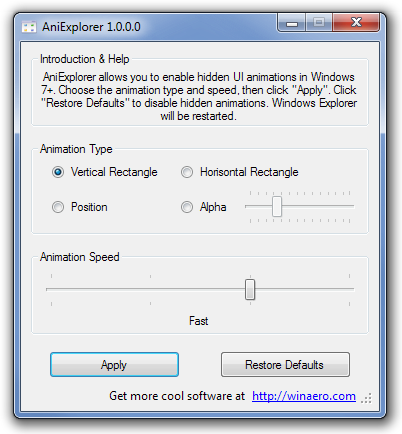 The video below demonstrates the available animations that can be enabled through this application.
AniExplorer works on both 32-bit and 64-bit versions of Windows XP, Windows Vista, Windows 7 and Windows 8. Testing was carried out on Windows 7 Ultimate 64-bit OS edition.